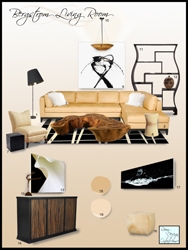 San Diego, CA, December 02, 2010 --(
PR.com
)-- This holiday season, the interior design industry's loss is the gift-giver's gain. With the recession forcing interior designers to be more creative than ever at marketing their services, they've now turned to the internet to offer budget-friendly virtual interior design packages. Whether you call it e-Decorating, virtual room design, or online interior design, it all adds up to a fantastic holiday bargain for anyone who's looking for a unique, personalized gift.
"I meet with a group of 12 professional ASID interior designers every month and it's been heartbreaking to see these well-established designers giving up their offices and letting go of employees," says Lisa Ellis, Allied ASID and CEO of San Diego-based
Room Design Online, LLC
. "Through e-Decorating, we're able to not only keep our businesses afloat, but to continue crafting beautiful spaces which, quite frankly, frequently stand competitively against on-site interior decorating. Imagine receiving that as a gift."
Ellis says online interior design is not only a great gift idea for that hard-to buy person on a Christmas list, it's also extremely budget friendly. "In major metropolitan areas, on-site interior design averages $120 - $200 per hour, which puts it out of reach for most people. With Room Design Online.com, you can design your living room, bedroom, kitchen, bathroom—really any room in the house—for a flat fee of $375 - $575 per room."
Online interior decorators are able to charge less for e-Decorating services because they split the workload with the client. For instance, instead of meeting the designer face-to-face, clients have the option of selecting their online interior design style and color palette via the website. They also fill out a questionnaire and receive instructions on how to measure and photograph their room and any existing pieces they want their interior designer to work with.
After clients submit that information, their interior designer calls them to iron out the fine details. Throughout the design process, they communicate via phone and e-mail as their interior decorator creates their design concept.
Ellis's e-decorating service, Room Design Online.com, offers clients a choice between a 100% virtual room planner and a physical room planner portfolio. Both planners include a coordinated concept board that keys to a furniture arrangement plan. A room design guide leads clients step-by-step through their decorating project with a selection of product recommendations from well-established online retailers.
As an added bonus, Room Design Online.com also includes a copy of its e-book, Home Decorating Essentials, a resource that includes the same formulas the pros use for estimating flooring, wall coverings, window coverings and the like.
Ellis recommends giving an online interior design gift certificate for the holidays to allow the recipient the fun of creating their own space with their interior designer rather than presenting them with a pre-designed virtual room planner.
"People are just floored when they receive this as a gift. And it's amazingly gratifying for me to work on these projects. You really feel the love, not only from the person who gets the gift, but from that person who gave the gift."
In a tough economy where the interior design industry as a whole has taken a beating, online interior design services give interior designers an innovative new way to continue their craft. During this holiday season, that adds up to big savings for home decorating devotees.
About Room Design Online:
Room Design Online, LLC, is a cutting-edge design studio at the forefront of an emerging trend in interior design: online interior design services. Located in San Diego, CA, the studio's ASID interior designers create custom residential e-Decorating packages. For more on e-Decorating, visit Room Design Online at www.RoomDesignOnline.com.
###