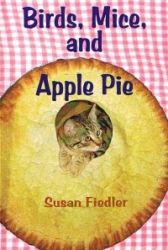 Sacramento, CA, February 01, 2007 --(
PR.com
)-- Animal communicator Susan Fiedler introduces readers to life from a cat's perspective in her newly-released "Birds, Mice, and Apple Pie," a non-fiction paperback published by Spotted Cat Designs.
Fiedler tells her tale from the viewpoint of a third-generation feral kitten adopted by a family of humans. Six cats from different backgrounds tell their stories to the young kitten with a mix of matter-of-fact compassion and humor. Through these stories, readers are given a cat's-eye view of feline life, shelters, catteries, birth, dying with dignity, and human cruelty and kindness. As Fiedler puts it, "Those creatures who dare to share their lives and love with us deserve our respect, compassion and love in return."
Fiedler draws from almost 40 years of experience taking care of animals and pours her love for them into this timeless book. "Birds, Mice, and Apple Pie" provides a glimpse into the spiritual side of the feline/human relationship by showing the world and human behavior through the minds and feelings of seven cats. She demonstrates how her cats aid her family in human sleep and meditation, as well as having valuable lessons to teach humans (like avoiding worry, stretching to relax, and meditation techniques). And in the tradition of books such as May Sarton's "The Fur Person," Susan Fiedler's cats come to life in a unique way that will appeal to readers of all ages.
The appendix of "Birds, Mice, and Apple Pie" has a detailed look at understanding the complexities of cat body language, and guidelines on modifying a cat's behavior. Fiedler offers insight into several areas of human and cat relations including training vs. punishing your cat, cat-style sleep, and human/feline meditation. The book is rounded out with a collection of valuable Internet and book resources for animal companion information, captioned photographs of the cats in the story, and poems dictated by Glory, the elder queen cat.
Readers can also visit the companion web site to "Birds, Mice, and Apple Pie" at www.SpottedCatDesigns.com where they can read articles on cat care, browse the latest cat news, and ask questions about interacting with their own cats. "Birds, Mice, and Apple Pie" (ISBN 0-9778580-1-4) is now available from major booksellers including Amazon.com and BarnesAndNoble.com. For more information, or to order a signed copy, readers can visit www.SpottedCatDesigns.com.
###