BetCroc.com Internet Wagering News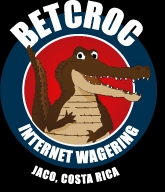 Jaco, Costa Rica, February 01, 2011 --(
PR.com
)-- With expectations high and potential profits even higher, long time Las Vegas casino executive Rory Hascall has turned his attention to the warm and lucrative waters of friendly Costa Rica. With projected Internet wagering growth forecasts indicating an increase of an estimated 25% by 2012, the financial upside to starting BetCroc.com, an internet wagering company headquartered in Costa Rica far outweighed the risks.
BetCroc is offering most everything you can get in Vegas Resort Casino but with the ease of a few computer keystrokes. An exciting and fun filled gaming offering including Slots, Video Poker, Blackjack, Craps, Baccarat, Roulette, Keno, Bingo and international Sports and Race wagering are core.
"Once we had our team in place the decision to move forward with BetCroc was easy, our financial projections are extremely powerful," Rory commented. With Rory's 30+ years' experience in high stakes Las Vegas based gaming; BetCroc was able to quickly assemble a team of "A" List marketing and IT professionals with extensive gaming backgrounds. Bandera Consultants will be leveraging all their intellectual capital and 15 years of gaming experience spearheading BetCroc's international marketing strategy. For Bandera and BetCroc the challenge and fun will be in deploying a global marketing strategy for players not residing in the United States or Costa Rica.
"Who could disagree with the logic, that internet gaming is on the rise and there are many advantages to operating an internet wagering business," says Rory. It is a well-tested and viable business model, safe, secure, and relatively inexpensive compared to a traditional bricks and mortar casino offerings and most important, it's extremely flexible. That flexibility allows BetCroc to provide incentives, promotions and bonus points to their Croc Club Rewards members in real time 24/7. Promotions are a key and integral part of the BetCroc philosophy, "We want to make the players experience, unique, easy, fun, interactive and rewarding in many ways," says Rory. "Once they give us a try we know they'll be coming back."
###
Contact
BetCroc
Rory Hascall
+(506)87121822
www.betcroc.com

Contact