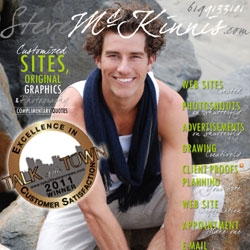 San Diego, CA, January 05, 2011 --(
PR.com
)-- Steve McKinnis is to receive the 2011 Award for Excellence in Customer Satisfaction presented by the Talk of the Town News and Celebration Media for Web Design. Now in its third year, the award takes great pride in showcasing companies that excel in serving their customers and getting among regions highest ratings and customer care grades. This is the second year McKinnis has received this honor.
McKinnis specializes in custom designed web sites and fixing and updating template or old web sites. He is also a photographer and graphic designer. In 2010 McKinnis' MyFarrah.com web site received a four of four star rating for creativity and originality. McKinnis' artwork has also been recognized with awards and accolades. McKinnis resides and works in San Diego, California and says the key to customer satisfaction is listening. "If you listen to your client and truly digest what they like, want and are unhappy with, there's no way you can't deliver something that truly represents what they want to see."
Simply copy and paste the links below in your web site browser to visit Steve's site and the award web site link.
http://www.stevemckinnis.com
Award Link: http://www.talkofthetownnews.com/awards2011/6199133101
###