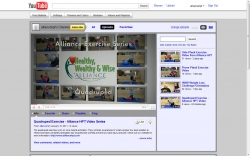 Westwood, NJ, January 18, 2011 --(
PR.com
)-- With continued commitment in providing topnotch physical therapy, occupational therapy, and wellness services and promoting healthy lifestyle choices, Alliance Hand and Physical Therapy is launching a series of exercise videos starting January 17, 2011.
The series is composed of 12 exercise videos, with one video to be released every week for the duration of the Healthy, Wealthy and Wise (HWW) Challenge, Alliance HPT's weight loss contest.
Each video is performed by certified exercise professionals at Alliance HPT and will feature three levels of ability (beginner, intermediate and advance). The exercises in the video series do not need any special equipment and can even be performed at home.
Concise and straight-forward, the videos will revolve around important points including: 1) highlighting proper exercise form to maximize results while reducing unnecessary stress, 2) pointing out common mistakes people make during workouts 3) how these factors can affect the success of an exercise routine.
An innovative way of providing supplementary resources, the video series will be available to all Alliance HPT clients and HWW participants so that they can maximize their exercise routines and fully benefit from the results.
Starting January 17, the videos will be available in the Alliance website www.alliancehpt.com/hww and in the Youtube channel www.youtube.com/user/alliancehpt
Alliance Hand and Physical Therapy was founded in 2002 by Pamela Muscara, PT MBA, and Stephanie Franklin-Cosgrove, OT, CHT who have over 30 years of physical and hand therapy experience combined. In just eight years of operation, Alliance has grown to seven clinics in Northern New Jersey and is dedicated to providing comprehensive, compassionate care through aquatic therapy, physical therapy, and hand therapy, supported by dedicated wellness and prevention programs. Alliance strives to enhance the quality of life for its patients and for their communities. For more details, please visit http://www.alliancehpt.com
###