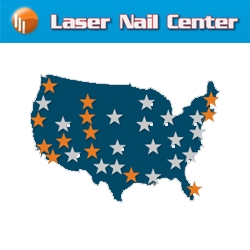 San Francisco, CA, January 29, 2011 --(
PR.com
)-- Laser Nail Center, the nations largest network of laser nail fungus treatment providers announces the addition of four new offices in the San Francisco bay area. The new offices will allow the millions of people in northern California to access a new revolutionary means of treating toenail and fingernail fungal infection. Prior to the development of the laser nail treatment, people who suffered from nail fungus treatment had very limited options, either use ineffective topical creams and ointments or undergo an effective oral treatment which had very detrimental side effects. However with new FDA approved and non-FDA approved laser treatments, podiatrists and other physicians have been able to provide complete removal of the toenail fungus for patients which is nearly 90% effective.
This success rate which dwarfs the topical treatment success rate of 8% for many popular treatments is also very popular among older patients. Many older patients who are susceptible to the fungal infection because of weakened immune systems do not seek the oral treatment because of potential life threatening harmful effects to the liver. The laser treatment is 100% safe with no side effects. Infected toenails are simply treated with pulses of laser light which is in a frequency that allows it to kill the fungus without damage to living tissue under the nail. A typical treatment lasts a little less than 30 minutes and requires no cutting, burning or medication. Patients simply walk in with the fungus and walk out without it.
For those interested in learning more go to
San Francisco Laser Nail Fungus Treatment
, there are treatment centers in the following locations:
Peninsula Office serving areas including San Francisco County (City of San Francisco), San Mateo County (San Mateo, Redwood City), Santa Clara County (San Jose, Santa Clara, Sunnyvale)
39 San Mateo Dr.
San Mateo, CA 94401
East Bay Office serving areas including Alameda County (Oakland, Fremont, Berkeley), Contra Costa County (Concord, Richmond, Antioch)
1300 Bancroft Ave.
San Leandro, CA 94577
Pleasanton Office serving areas including East Alameda County (Pleasanton, Livermore, Dublin) and San Joaquin County (Stockton, Lodi, Manteca)
5720 Stoneridge Mall Rd
Pleasanton, CA 94588
Half Moon Bay Office Serving Costal San Mateo County and Santa Cruz County (Santa Cruz, Watsonville)
725 Main St
Half Moon Bay, CA 94019
###