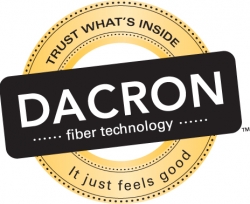 Kennesaw, GA, January 29, 2011 --(
PR.com
)-- One of the most prestigious and decorated divisions in the U.S. Army, the 101st Airborne Division "Screaming Eagles," took off for Afghanistan from the Special Tactics Base in Fort Campbell, Ky., during the remaining hours of 2010 with some much-appreciated comforts from home – miniature pillows bearing the DACRON® fiber quality seal, perfectly sized to fit into each soldier's field pack.
In collaboration with local U.S. military personnel and supportive organizations, such as Pillows for Patriots and Our Troops Online, the DACRON® brand team successfully delivered hundreds of branded, miniature pillows to American forces stationed in combat zones in Afghanistan and Iraq.
Pillows for Patriots, an organization created by two military moms in South Carolina, and Our Troops Online, founded by a retired businessman from Florida who served in the Navy in the 1960s, provide everyday items to combat troops stationed in far-flung places. For these combat troops, the nearest store is at least 40 minutes away—and typically requires a combat convoy to get there.
"Most people don't realize that pillows aren't a government-issued item for certain troops on the front lines," said Brian Nix, segment manager for INVISTA's North America Fiberfill business. "When we found out that soldiers on the move often fall asleep wherever they can find a place to rest their heads, we knew we had to provide the assurance of comfort (in the form of DACRON® brand fiberfill) to those deployed."
The DACRON® fiber quality seal endorses brands like luxuriously comfortable DACRON® Comforel® fiberfill, durable and functional DACRON® Performa® fiberfill, and long-lasting DACRON® DuraLife™ fiberfill. The DACRON® fiber quality seal is based on a legacy of fiber technologies that have earned people's trust for more than 50 years. With two-thirds of consumers saying they are familiar with the DACRON® brand in a 2010 nationwide survey, it has one of the highest levels of consumer awareness among popular home furnishings brands.
"The DACRON® brand has a long heritage and relationship with today's consumers, and it's sure to be a familiar, reassuring reminder of home for the men and women in the U.S. Armed Forces," said Nix. "We all sleep better because of their sacrifices."
About INVISTA
INVISTA is one of the world's largest integrated producers of polymers and fibers, primarily for nylon, spandex and polyester applications. With a business presence in over 20 countries, INVISTA's global businesses deliver exceptional value for their customers through technology innovations, market insights and a powerful portfolio of global trademarks including: ADI-PURE®, ANTRON®, AVORA®, C12™, COMFOREL®, COOLMAX®, CORDURA®, CORFREE®, DACRON®, DBE®, DYTEK®, FRESHFX®, LYCRA®, PERFORMA™, POLARGUARD®, POLYSHIELD®, POLYCLEAR®, SOLARMAX®, STAINMASTER®, SUPPLEX®, SUPRIVA™, TACTEL®, TACTESSE®, TERATE®, TERATHANE® and THERMOLITE®. For more information, visit www.INVISTA.com.
About Pillows for Patriots
In 2009, when Army Capt. Justin Daubert headed for his third tour of duty in Iraq, his mother, Barb Farrior, learned that one of the simple needs of her son and his fellow troops on the front line was a small, compact pillow (not a government-issued item) which could easily fit in a field pack. That way, during those rare moments of rest, he and his fellow soldiers truly would be able to have an "adrenaline break." Farrior made it her mission to bring a bit of familiar comfort to our troops, and with the generous support of Harris Pillow Supply and help from friends and neighbors in her hometown of Beaufort, SC, "Pillows for Patriots" was born. Farrior has raised more than $60,000 to date and has shipped more than 28,000 pillows to troops serving in combat zones since the program began in August 2009. To save on shipping costs, the group is trying to ship the pillows to military units before they leave the U.S. "They'll sleep better, so we'll sleep better." For more information, visit www.PillowsforPatriots.org.
About Our Troops Online
Our Troops Online is dedicated to the men and women who have done so much to ensure our country's safety. Founded by Bob Williams, a sailor in the 1960s, Our Troops Online grew out of his respect for what our U.S. troops do to protect our freedom. Williams is a retired owner of two successful businesses which his sons now run, but these days he goes to his warehouse in Wesley Chapel, FL, at 4 a.m. to prepare shipments of care packages to our troops overseas. Williams visits U.S. troops stationed in remote and dangerous places and, upon his return, sends about 215 boxes of items each week to some 200 combat-zone bases. For more information, visit www.ourtroopsonline.com.
###