Yubico and DS3 Partner to Offer YubiKey Authentication for Lowering Deployment Costs
Yubico's YubiKey USB authentication key is now supported on Data Security Systems Solutions Pte Ltd (aka DS3) authentication server.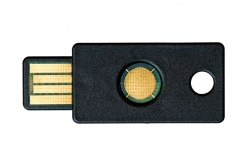 Sunnyvale, CA, February 10, 2011 --(
PR.com
)-- Yubico, a leading provider of easy and secure login solutions, and Data Security Systems Solutions Pte Ltd (aka DS3), a leader in end-to-end security and large-scale multi-factor authentication, announced today that the YubiKey USB authentication key is now supported on DS3's authentication server.
"With its ease of use, the confirmation button for higher security and the ability to ship YubiKeys by mail in a standard envelope lowering the deployment costs significantly, the YubiKey is a great complement to our existing offering of authentication methods," said Tan teik Guan, CEO of DS3.
The YubiKey simplifies the process of logging in with a One Time Password token, as it does not require the user to re-type long pass codes from a display device into the login field of the computer. The YubiKey is inserted in the USB-port of any computer and the OTP is generated and automatically entered with a simple touch of a button on the YubiKey, without the need for any client software or drivers. The rugged, ultra-thin, battery-free, crush safe, and waterproof design has also been fundamental to the success of the YubiKey, currently used by over 10,000 customers globally.
"We are pleased to partner with DS3 to offer their customers unmatched ease of use and low deployment costs, and the Yubico community a new proven authentication server choice," said Stina Ehrensvard, CEO and Founder, Yubico.
The joint solution will be demonstrated at the RSA Conference in San Francisco Feb. 14-18, in the DS3 booth 2123.
About DS3 - Data Security Systems Solutions Pte Ltd
Headquartered in Singapore, Data Security Systems Solutions develops authentication solutions for enterprises, banks and governments that dramatically provide strong authentication that is most critical to online businesses From managing world-class security products and components to enterprise security consulting to developing solutions for the Banking, Financial and Private environments, D3 is simplifying the way to secure your enterprise and authenticating the world. For more information visit
www.DS3global.com
.
About Yubico
Yubico's core product is the YubiKey®, a unique USB-key for instant and strong authentication to networks and services. For more information visit
www.yubico.com
.
###
Contact
Yubico
Brooke Holve
+1 559 560 6550
www.yubico.com
Swedish Office
Tel: +46 8 411 30 00
Fax: +46 8 790 61 19
US Office
Tel: +1-408-774-4064
Fax: +1-408-774-4065

Contact