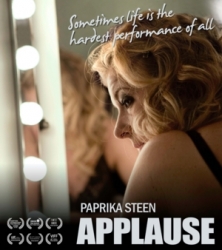 Los Angeles, CA, March 16, 2011 --(
PR.com
)-- World Wide Motion Pictures Corporation (World Wide) is pleased to announce that Applause, the award-winning Danish film starring internationally acclaimed actress Paprika Steen, will continue its U.S. theatrical rollout in the Southeast. The film will open in premier venues on March 20th in Chicago at the Gene Siskel Film Center; on April 22, in Florida at the Gateway Cinema in Fort Lauderdale and at the Regal Shadowood in Boca Raton; and on May 13 in Minneapolis St. Paul at the St. Anthony Main.
"I'm very happy to report that the initial runs of the film in New York and Los Angeles were met with rave reviews from the national media," states Paul D. Hancock, President and Chief Executive Officer of the 33-year-old, Southern California-based entertainment company.
World Wide's recently added business focus as a boutique distributor of specialty international films will incorporate the long-standing company philosophy of cost-control and moderately budgeted campaigns. The company implements both traditional and cutting-edge marketing efforts to promote optimal revenue generation on each project.
"Foreign language films looking for distribution in North America are in good hands with World Wide because we know how to combine traditional advertising with extensive, online, viral marketing and other new media to specifically target these discriminating audiences," Hancock says. "The combination of daily efforts to build and maintain 'buzz' about a film through social media, as well as conducting in-person, grass-roots, outreach efforts strictly keyed to potential demographics, is our forte."
In order to gain further exposure for quality films, World Wide also mounts full Oscar campaigns on a limited budget, as was done for Steen's performance in Applause, resulting in significant industry and media support for a Best Actress nomination. Additionally, the picture has garnered awards from the Zurich Film Festival and the Hamptons International Film Festival as well as being selected for the prestigious Toronto International Film Festival and the London International Film Festival.
"We're delighted that audiences are embracing the film and that word-of-mouth is catching on. As the U.S. rollout continues to other cities, we expect it to continue to establish World Wide as a significant presence in the specialty film marketplace and will soon be announcing further acquisitions," Hancock offers.
Any forward-looking statements contained in this release reflecting management's best judgment based on factors currently known involve risks and uncertainties. Actual results could differ materially from those anticipated in the forward-looking statements included herein as a result of a number of factors, including but not limited to World Wide's ability to enter into various financing programs, competition from other companies, business acquisitions, acquisition of suitable motion pictures, and the performance of films in general licensed by World Wide.
Founded in 1977, World Wide Motion Pictures Corporation is a diversified company with shareholders throughout the world primarily involved in the development, financing, production and distribution of feature films, documentaries, short subjects, industrials and television productions. World Wide's industry executives and board members have produced, distributed and consulted on a wide variety of film and television projects, earning Academy awards, Emmy awards and prizes from world film festivals.
###