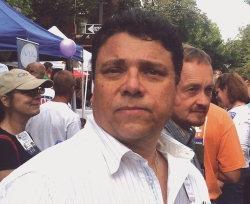 Frederick, MD, March 17, 2011 --(
PR.com
)-- Joseph T. Krysztoforski confirmed what his supporters anticipated, he will to take advantage of the inroads made in 2010 and seek the republican nomination for House of Representatives for Maryland's 6th Congressional District.
The Constitutional Republican made his formal announcement on Tuesday, March 15. 2011, during a brief meeting with organizers, via e-mail and the web:
"Nothing has changed and nothing will change; we continue to send back to Washington career politicians who have become the American Aristocracy, and are at the root cause of the problems we face as a nation. The national debt is approaching $13.3 trillion dollars, Congress sidesteps balancing the budget, and does nothing to significantly reduce spending and pay down the debt. We are at a crossroads. The election of 2010 was the first volley; the election of 2012 will be the second American Revolution and a turning point in American government. The time has come for a new generation of constitutional republicans to lead the nation and I am honored to stand before you today to announce my candidacy for the House of Representatives."
Krysztoforski answered questions then discussed key issues facing the nation, the budget deficit, national debt, immigration, rising oil prices and healthcare reform. He closed with, "Washington must stop playing politics and economics with the legacy we will leave behind for future generations. As previous generations have, this generation must provide a secure legacy for future generations."
When elected Krysztoforski will tap his 35 years' experience in the private sector and lead the way towards limited government, fiscal responsibility, immigration reform, a fair simplified tax code, economic growth and a strong national defense. He will focus on making clean and responsible use of our natural resources, and work on formulating concrete plans for reducing the deficit, paying down the debt and addressing America's economic crisis.
###