Freedom Graphic Systems to Celebrate Its 25th Year as One of the United States' Largest Independent Direct Mailers
Freedom Graphic Systems, one of the nation's largest independent direct mail companies, is marking a major milestone with the celebration of its 25th anniversary as a "Sole-Source Direct Mail Provider." This commemorative year will be marked by a metaphorical journey along the Freedom Trail via a dynamic, multi-channel direct marketing campaign, concluding with a festive celebratory event in October at the Annual Direct Marketing Association Show in Boston.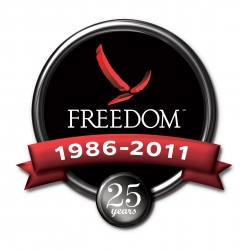 Milton, WI, April 04, 2011 --(
PR.com
)-- Marty Liebert founded Freedom in 1986 in Milton, Wisconsin, printing cut sheets for the high-speed laser market. He soon realized that rapidly developing technology afforded a huge growth opportunity in the direct mail industry. The company then began an aggressive, ongoing investment in print and personalization capabilities to change its focus to the direct mail market.
Over the years, Freedom expanded vertically and geographically, acquiring a lettershop in Illinois in 1996, and establishing a national manufacturing footprint through acquisitions in Texas in 2004 and 2005. Freedom now operates four facilities across the United States with more than one million square feet of manufacturing capability while employing more than 650 full time employees.
With the company's direct mail business growing, Liebert realized that one of the keys to successful direct marketing was controlling postage and distribution costs, leading to Freedom's 2004 addition of commingling capability and to its focus on providing complete direct mail solutions to include production, postage and logistics. And as technology continued to evolve, the company refused to stand still. With a keen eye on the industry's trend toward more personalized and targeted mailings, Freedom purchased cutting-edge digital printers which enabled it to add Print on Demand to its other direct mail offerings.
Commenting on the significance of his company's 25th anniversary, Liebert said, "It is humbling to have been part of the direct mail industry for a quarter of a century, and to have been supported by such an exceptional group of skilled, dedicated and extremely loyal employees, customers, and suppliers. Today's successful direct marketer employs more focused one-to-one marketing programs, on an increasingly personal level, in an effort to distinguish themselves from their competition. It's all about market segmentation, increasing response rates, understanding how to adapt quickly to ongoing changes in postal regulations, pro-actively adapting to new environmental initiatives, and keeping costs competitive."
Liebert continued, "Our primary focus is to provide sole-source, end-to-end solutions that can be fully integrated into our client's workflow. Cultivating solid and trusting long-term relationships with each customer is our number one goal. We look forward to helping our clients grow their business relationships with their customers over the next quarter century in a constantly changing technology-driven environment. As always, we will devote 100% of our resources to remain on the leading edge of printing, personalization and mailing technologies."
Contact: Jon Singer, Executive Vice President, 608-373-6500, jsinger@fgs.com
Source: Company press release.
###
Contact
Freedom Graphic Systems
Jon Singer
1.608.373.6500
FGS.COM
Cathy Leibrock
1.847.356.2732
cleibrock@fgs.com

Contact