Bajon Salon Announces New Interactive Website - Streaming Video and Audio Hallmark Features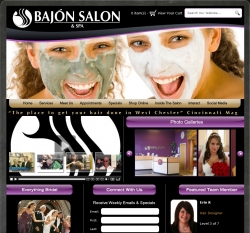 West Chester, OH, April 13, 2011 --(
PR.com
)-- Bajon Salon & Spa announces the publication of their newest website at www.BajonSalon.com. The new website boasts features that are unrivaled in the industry with streaming video and audio, interactive and user-friendly navigation and a full complement of business-to-consumer communication tools.
"After almost a year of development, we're very excited to introduce our new website to the public. Our goal is to offer rich media content in an esthetically pleasing, easy to navigate environment that our clients and friends enjoy exploring and returning to," said Mark Welch, owner. "New programming tools developed over the last couple years allow our Marketing Department to have complete authorship of content and page design. This is important because we can't afford to wait for a web programmer to make updates and changes to the site, especially with regard to events, specials, service price changes and social media," said Welch.
About Bajon Salon & Spa
Bajon Salon & Spa is a full service salon and spa in West Chester, OH offering upscale services in a relaxed, friendly environment and has been honored with more than a dozen 'best of' awards including 'Best Hair Salon in Cincinnati' three years in a row. Bajon Salon & Spa is "Upscale...not Uptight!" Visit them on the web at www.BajonSalon.com or call 513-874-9999 for more information.
###
Contact
Bajon Salon & Spa
Mark Welch
513-874-9999
www.BajonSalon.com

Contact