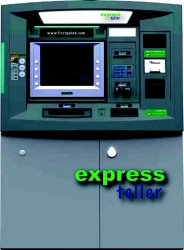 Austell, GA, April 18, 2011 --(
PR.com
)-- First Georgia Banking Company unveiled on Friday April 15th, its "Express Teller ATM" solution as a remote branch location in Villa Rica, GA. This innovative bulk cash and bulk check "envelope-less" deposit solution with seamless imaging and posting is the result of a 6 month strategic effort led by the management at CashTrans, headquartered in metro Atlanta, GA.
"This universal turn-key solution, which we call ATMlynk™, is available to all size community banks and brings together a host of players into one seamless integrated offering," states Fred Ethridge, President of CashTrans. "Community banks today are under enormous pressures to better manage cost and improve efficiencies which this program delivers to our partner First Georgia Banking Company," continued Mr. Ethridge.
"We believe we are the very first community bank in Georgia to offer this integrated solution and we are planning a second deployment with CashTrans in the near future. It has been highly beneficial to work with the CashTrans team which has masterfully brought together all the key elements and delivered them in a powerful way," states Teresa Martin, EVP and CFO at First Georgia Banking Company.
In addition to CashTrans' leadership role in bringing all the key ATMlynk™ players together, they assembled an impressive group including: Columbus Data Services in Dallas, Texas as the transaction processor to the networks; Conlan Financial Solutions in Tallahassee, Florida as the imaging software provider; and Visual Marketing Group in Woodstock, Georgia for all site design and branding.
For more information on the ATMlynk™ Solution, developed by CashTrans or their equipment and services, please visit the CashTrans website at www.cashtrans.com or feel free to contact our President, Fred Ethridge at 770.941.6680 X35, or by eMail at Fred.Ethridge@cashtrans.com.
###