Rebootizer USA's Third Major Order Offers Retailers New Merchandising and Marketing Support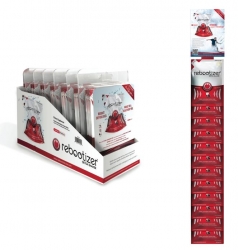 Wilton, CT, April 21, 2011 --(
PR.com
)-- Global Entry, Inc. exclusive distributor of the popular Rebootizer® Detox Shaker, (http://www.rebootizerusa.com), has finalized purchase of its third major order for sales in the US from Rebootizer Group PLC, the international company focused on the functional food market.
Since the launch of Rebootizer® into the US market in Q4 2010, GlobalEntry has already established two national distributors in addition to two regional distributors with primary responsibility for California and New York states respectively. The company has achieved a distribution footprint covering 200 stores which is steadily increasing across the key states initially identified by GlobalEntry, including Illinois, Arkansas, California, South Carolina and New York. The next stage of the channel development for the sales and distribution teams will be to establish sales in the major chain stores.
The insights of Rebootizer's current and potential trade partners has been key to preparing new merchandising options that will increase Rebootizer's presence in stores. With the new order, available in June, retailers will be able to present a six-pouch blister pack and a twelve-pouch hanging strip that will fit into most of the merchandising possibilities in stores.
Major marketing campaigns have been developed to promote the brand across the USA throughout 2011 in support of trade and retailer sales channels. On television, Rebootizer has partnered with 'The Balancing Act,' a national women's morning show on Lifetime Television. Rebootizer will be featured on the hit show on Monday, May 2 at 7:00 am (ET/PT). Rebootizer will also sponsor five of 'The Balance Your Life' Road Tour 2011 appearances with Southern Shows, Inc. reaching over 275,000 women face to face and one million on-air and online. Extensive online advertising is scheduled on Facebook and Google. Event sponsorships include April's Charleston, SC blitz with Charleston Race Week and Kuture Klash. Rebootizer USA returns as presenting sponsor of the 2011 EVP Pro-Am Beach Volleyball Tour in ten key markets across the country, May through September, including six, 30-minute TV shows reaching over 60 million viewers in 40 states per airing through Comcast Sports Network. International kiteboarding champions Davey Blair and Kris Kinn will continue to represent the brand as they compete around the globe.
Commenting, Catherine Brandt, CEO of GlobalEntry Inc., said:
"The US market has been extremely receptive to the introduction of Rebootizer since its launch in Q4 2010. We continue to achieve increased awareness of the benefits of regular Rebootizer intake to help reduce oxidative stress and support the body's natural detoxification and digestive functions."
Thierry Huguet, Rebootizer Group CEO stated:
"It is significant that we are achieving consistent growth in the US market which demonstrates the positive consumer response which is showing through in repeat sales. In addition, through GlobalEntry we are gaining good traction across a growing number of distribution channels."
About Rebootizer® Detox Shaker
Rebootizer Detox Shaker is a revolutionary, potent antioxidant drink made from a proprietary blend of natural detoxifying fruit and plant extracts. Recognized as one of the best innovations in beverage dietary supplements, Rebootizer has received several prestigious international awards: the Trends & Innovations Selection at SIAL in Paris, 2008; Frontier Magazine Buyers' Forum 2010 Winner for Best New Product; and Columbia's Axioma Group "Great Idea 2011" award for most innovative functional drink. Most recently, Rebootizer was awarded four stars by Beverage Spectrum Magazine/BevNet.com, the recognized authority on the beverage industry.
About GlobalEntry, Inc. – Rebootizer USA - Rebootizer Group
GlobalEntry, Inc. d/b/a Rebootizer USA located in Wilton, CT is the importer and exclusive distributor of Europe's Rebootizer Group PLC products in the USA. Rebootizer USA designs and implements the marketing and distribution strategies in the USA. Rebootizer Group is a public company, traded on the European stock market, which focuses on natural health and wellness, and is specialized in the discovery and marketing of natural functional drinks created to enhance the body's natural functions.
For more information, please contact Catherine Brandt of Rebootizer USA at (203) 665-0333 or at cbrandt@rebootizerusa.com. Please visit www.rebootizerusa.com.
###
Contact
Rebootizer USA
Ann Billik, PR Manager
646-284-7792
www.rebootizerusa.com
Catherine Brandt, CEO
203-536-4995

Contact