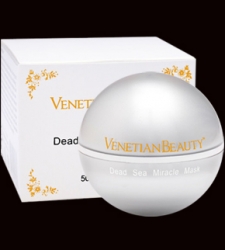 Fort Lauderdale, FL, April 26, 2011 --(
PR.com
)-- Venetian Beauty offers a product for all skin rejuvenation needs, no matter what you are looking to remedy. The main focus of the product line is anti-aging, with various wrinkle fighting properties in their popular 24K Gold
Eye Serum
and 24K Pearl Wrinkle Treatment. For added rejuvenation of the skin, Venetian Beauty also offers a 24K Collagen Cycle Serum.
Not losing sight of daily maintenance routines, Venetian Beauty highlights their 24K Gold Moisturizer and 24K Facial Cleanser. These two skin products are available individually and also sold together at a discounted price in a "Daily Maintenance System." For the delicate skin around the eye and orbital bone area, there is the "Eye Definition System" which consists of the 24K Gold Eye Serum and 24K Intensive
Eye Gel
, which in tandem attacks wrinkles and fine lines around the eye area and also reduce puffiness and dark circles under the eye.
General Manager of Venetian Beauty, Dave Schmidt, explained the reasoning behind the use of 24K gold in their products. "Gold has been used for thousands of years as a skin care remedy, dating back to ancient China and often rumored to be a favorite treatment of Cleopatra, who wore a gold face mask each night as she slept. The reason is because gold has remarkable anti-aging qualities," commented Schmidt.
"Studies have shown that gold is effective in slowing down the breakdown of collagen and elastin in the skin, which helps prevent wrinkles. Gold also rejuvenates the skin by promoting cellular growth to regenerate new, healthy skin cells and firmer skin."
Word has spread of these wondrous products as Spa magazine recently mentioned Venetian Beauty's product line in a recent feature on the rising popularity of gold skin care products. Spa highlighted the 24K Gold Moisturizer, saying "Filled with pure gold flakes, plus vitamins and plant, floral and citrus extracts, this moisturizer leaves skin looking subtle and fresh."
Venetian Beauty has followed this publicity with a sales promotion offering 20% off of any items in their store. Simply enter the discount code spa20 during checkout and 20% will automatically be deducted from the total price. This offer is good through May 15th and is perfect timing for Mother's Day gifts.
For more information on gold skin products or to place an order, visit Venetian Beauty at
www.VenetianBeauty.com
.
###