AstraZeneca has Generously Funded the "Safe Adult Card" Identification CD Program Offered by the Claymore TRIAD; "Law Enforcement and Senior Adults Working Together"
The Claymore Senior Center will be offering new and ongoing programs such as the Safe Adults Card, to promote a healthy lifestyle for the 50 and older generation.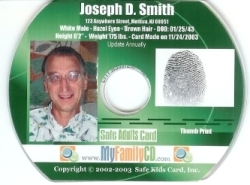 Wilmington, DE, March 08, 2007 --(
PR.com
)-- A TRIAD is a partnership between senior adults and local, county and state law enforcement agencies. On September 9, 2002, the State of Delaware, Department of Justice, Wilmington Police Department, Delaware State Police, New Castle County Sheriff's Office, and the Claymore TRIAD wrote a Cooperative Agreement that these organizations have agreed to work together to reduce the criminal victimization of older citizens and enhance the delivery of law enforcement services to this population.
The Claymore TRIAD is designed to promote the prevention of crime and to assist victims of crime through cooperative education, mutual awareness and participation by seniors and lawmen working together. Their monthly programs educate seniors about, identity theft, personal security, elder abuse, consumer fraud, crime prevention, home security, scams and frauds.
"This year our TRIAD team has been exploring a new and innovative way of protecting older adults in our community through a partnership with My Family CD," said Beverly McCool, Assistant Director for Claymore Senior Center. Thanks to generous funding from AstraZeneca, Safe Adults Cards will be offered to area seniors.
AstraZeneca's Irene Fick, Director of USBC Health and Community Alliances said, "AstraZeneca has a long history of supporting meaningful causes in Delaware that benefit the health and well-being of older adults. We are delighted to support the Safe Adults Card program which educates seniors about identity theft, personal security and a host of related issues."
Safe Adult Cards are state-of-the art, all-in-one digital identification cards which can assist law enforcement and medical officials in the event of an emergency. The cards are mini-CD's that are slightly larger than a credit card and can easily be carried in a wallet, purse or pocket. The cards contain three high-quality digital photographs; all personal and medical information that the consumer /parent would like included. In the event of an emergency when time is so crucial, multiple color photos and all necessary information can be easily accessed and either printed or e-mailed from any Windows-compatible computer within minutes.
Jennifer Hawkins, program coordinator for My Family CD said "Seniors can be especially vulnerable to new high tech scams leading to identity theft. By keeping records in a secure format that is NOT subject to hacking, it provides peace of mind and confidence that in an emergency their information will be passed on to the right people, in the right way."
The 250 free Safe Adult Card CD's, A Claymore TRIAD sponsored program, generously funded by AstraZeneca for adults 50 and older, will be available thru May 1st while supplies last.
For more information please call 302-428-3170 or visit www.myfamilycd.com
###
Contact
My Family CD International
Jeremiah Hutchins
760-486-1506
www.myfamilycd.com

Contact