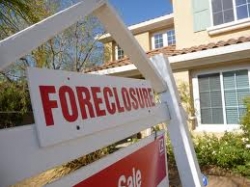 Queens, NY, May 07, 2011 --(
PR.com
)-- The Rev. Dr. Floyd H. Flake, CEO, Greater Allen Development Corp, the Financial Ministry of The Greater Allen A.M.E. Cathedral of New York and Queens Legal Services of Jamaica take a stand against Foreclosure. MFY Legal Services, NHS of Northern Queens and NID Housing Counseling Agency are just a few of the agencies providing services at this FREE one-day workshop.
According to a recent study, Jamaica, Queens has the highest foreclosure rate per 1000 households in New York City. Rev. Flake is aware of the fact that Jamaica, Queens is one of the hardest hit areas as it relates to foreclosure filings and he has taken steps to refocus attention and offer solutions to those affected by this crisis. According to Flake "We have to educate homeowners on the available resources that might help people keep their homes." This partnership with Queens Legal Services of Jamaica will host a one-day workshop, that will be offered Saturday, May 14 and Saturday, May 21, 2011 from 9:00 a.m. to 5:00 p.m. at Allen Christian School, 171-10 Linden Boulevard, Jamaica, NY 11433.
This free workshop will offer a financial clinic, client intake, table chats with attorneys and legal experts. This informative workshop is a demonstration of how entities are uniting to help a community in need. Homeowners will get the facts on how to negotiate a Loan Modification, Deed in Lieu or Short Sale and how your credit will be affected from a Foreclosure. Flake says, "There are too many issues and too many circumstances that can be managed without going through the legal process. The reality is many homeowners don't have access to legal services." Says Flake, "We don't want this to be another workshop that people get information and are left to their own devices, we want some outcomes that are measurable and this workshop is designed to do just that."
Although the workshop is free, registration is required. Registration is available on their website at
www.allencathedral.org
. Homeowners may download a copy of the client intake application provided by the NID Housing Counseling Agency, and bring the completed copy with them to the workshop. "We take pride in our community, we want to see them succeed and reap the benefits of homeownership. For 35 years, we've built community and transformed lives, and that's what this workshop is about. Sustaining the community and offering services that help homeowners keep their homes," says Flake.
The mission of the Greater Allen Development Corporation is to function as a development engine committed to providing faith-based leadership, housing, service, and consulting that will serve as a foundation for revitalization and restoration of historically under-served and underutilized communities. This includes providing affordable housing, promoting homeownership, and incorporating substantial commercial development to ensure the long-term viability of the communities that we serve.
###