Up Close & Personal Wearable Art Sale and Reception at Long Island Marriott Hotel
Madona Cole Originals announces a Wearable Art Fashions and accessories sale & reception on Saturday, March 24, 2007 at Long Island Marriot Hotel, Uniondale, New York. Sale time: 10:00AM - 10:00PM. Highlights include, a 5% -15% discount on all purchases, a door prize drawing every 2 hours and live musical entertainment.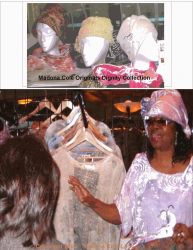 Bellmore, NY, March 08, 2007 --(
PR.com
)-- On Saturday, March 24, 2007, Madona Cole Originals will host an "Up Close and Personal" Sale and Reception at the Long Island Marriott in Uniondale, New York. This event is open to the general public, and will offer the opportunity for viewing and purchasing wearable art fashions and acccessories created by Long Island's textile artist and fashion designer Madona Cole-Lacy.
Mrs. Cole-Lacy brings a fresh new look to the world of fashion with her signature brand of unique, artistic designs which she applies to silk and other fabrics. Her designs are truly fine art on fabric which, in addition to being fashioned into garments and accessories for all occasions, are mounted and framed as wall art. Her pieces range from delicate free-flowing resort wear to business and formal wear, including neckties and vests for men.
The artist is particularly excited about her Dignity Collection of headpieces and matching accessories. These headpieces are designed to cater to the needs of women experiencing hair loss, or simply those who need to look elegant as they "cover up" on "bad hair" days. They are also an exciting addition to the wardrobe of hat lovers!
Highlights include a 5% to 15% discount on all Madona Cole Originals purchases that day, live music while you shop and a door prize drawing every 2 hours. All major credit cards are accepted.
###
Contact
Madona Cole Originals
Madona Cole-Lacy
516 783-9178
www.madonacoleoriginals.com

Contact