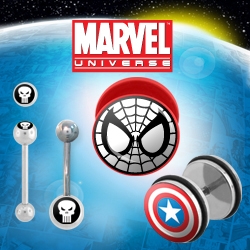 Norwalk, CT, May 28, 2011 --(
PR.com
)-- Salesone International and MARVEL is announcing a licensing agreement that will make body jewelry, inspired by popular Marvel characters, available to retailers across the United States and Canada this summer.
Salesone see this as a great opportunity to both parties and to retailers who have wanted to offer Marvel related products to their customers. Body jewelry which includes but not limited to plugs, tapers, belly rings, stud earrings and tattoo sleeves will be made available and will bear characters, icons or logos of leading Marvel characters like the X-Men, Thor, Captain America, Spider Man, Hulk and Iron Man, among many others.
According to Salesone, Marvel body jewelry products will be available for shipment this summer. The timing proves to be a great opportunity for retailers as they can sell these products just in time for upcoming Marvel films and increase their profits.
SalesOne International is headquartered in Norwalk, Connecticut, USA, with the goal of bringing products to retailers that occupy specific niches in jewelry and accessories. Salesone's three most identifiable brands are Body Vibe, INOX and Wild Tribe, whose main categories of focus are manufacturing and distribution of body jewelry and stainless steel jewelry.
###