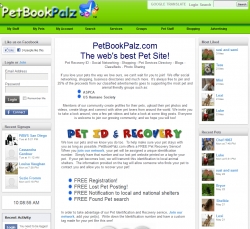 Poway, CA, May 28, 2011 --(
PR.com
)-- PetBookPalz.com launches it's all new pet networking and social site designed to provide pet lovers a unique experience on the web, offering apps and services not found in one place before.
Since the launch of the site on May 23rd, 2011, PetBookPalz has seen dozens of new accounts, photos, blogs and video about people and their pets, rapidly becoming one of the most popular pet-based websites on the market today.
When asked to comment on PetBookPalz, Co-founder Steve McIntosh said:
"We designed PetBookPalz.com to be a one-stop-shop for our members. They can choose to post photos of themselves and their pets, find a vet or other service in our directory, shop online with our extensive network of online stores, write stories and blogs, view and post pet-based events, create albums of photos and videos, and so much more."
As online communities have grown more popular, they have also become more specialized. PetBookPalz.com addresses the desire of the pet lover's population to have a place of their own, where they can connect with other pet lovers with chat and Instant Messaging to create friendships, find something useful for themselves or sharing something with the community.
PetBookPalz.com also donates 20% of the proceeds from advertising fees to support pet groups such as The Humane Society and the ASPCA. In addition, PetBookPalz.com offers a free Lost Pet Recovery system. Said Co-founder Chris Boshaw:
"Our Lost Pet Recovery system aims to help pet owners recover their animals quickly and easily. Owners can choose to purchase a Pet ID Tag with their unique PetBookPalz identification number on it. When someone finds a lost pet, they can make contact with the owner through PetBookPalz.com."
With social networking still in it's infancy, PetBookPalz.com is prepared to take the pet world by storm.
###