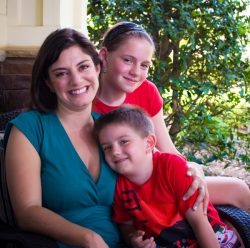 Durham, NC, June 02, 2011 --(
PR.com
)-- Attorneys for Alaina Giordano have filed a motion to stay in the General Court of Justice, District Court Division, Durham County, asking Judge Nancy Gordon to put on hold her custody order that would uproot the children from their Durham home in less than three weeks.
The six-page motion – supported by affidavits from Giordano, friends and physicians – asks for the status quo to be maintained for Sofia, 11, and Bud, 6, pending the outcome of an appeal filed last week. In her order, Judge Gordon set a date of June 17 for the children's father, Kane Snyder, to bring them on the 800-mile journey to his home near Chicago, IL.
In the original custody order, Judge Gordon said that "by all accounts" Giordano is a "capable, caring and loving mother who has an excellent relationship with her children." Judge Gordon also said that the children are succeeding "in their current school, social support networks and therapeutic relationships."
The order, however, cited Giordano's illness -- she currently is battling Stage 4 breast cancer, but the condition is stable -- as the primary reason for the custody decision. Both Gordon and Dr. Helen Brantley, the custody evaluator on the case, acknowledged the difficulty they had in rendering the decision. Brantley wrote in her report that this "was not a clear cut relocation case," that "she did not know for sure whether it would be better for the children to be with the Defendant" while battling her illness, and that the "decision was not foolproof."
This struggle and other technical factors were cited by Giordano's legal team from Brooks, Pierce, McLendon, Humphrey and Leonard in asking for the "status quo" to be maintained while the appeal process proceeds.
In more than 50 pages of affidavits, Giordano, her physicians and her friends, state that Giordano is a "devoted mother" who "loves them with all her heart." The affidavits use painstaking detail to show that Giordano lives a very active lifestyle, helping her children with everything from homework and playdates to overnight camping trips, soccer practice and distance running. According to one of Giordano's oncologists, "Giordano does not suffer from a medical condition which has a significant current impact on her ability to care for her children."
The affidavits also outline patterns of behavior which call into question the motives behind the actions of the children's father, Kane Snyder, as well as his ability to provide the same level of care as Giordano, a stay-at-home mom.
"These are issues which were not raised at the trial because our primary goal is, and always has been, to show that I am a capable, caring and supportive mother," Giordano said in commenting on the filing. "In a normal trial, we believed that was all we needed to show. There was, therefore, no need to air our 'dirty laundry.'
"I will be the first to admit that I have made mistakes, too. As with all parents, you do your best to overcome challenges, and to learn from them. I am not sure that Kane has evolved in the same manner, but for his sake and for the sake of our children, I hope that he has," Giordano said.
Giordano reiterated that she felt blindsided by the original custody ruling, which primarily hinged on Dr. Brantley's belief that children are better off in the custody of the "non-ill parent." The opinion has sparked worldwide outcry in support of the parental rights of cancer survivors such as Alaina.
"There was no way we could have known that the judge would place such a heavy emphasis on my cancer diagnosis, considering that it has no current impact on my ability to parent," Giordano said. "This is my last chance to do whatever I can to keep my children here, in Durham, with my doctors, friends and family. As such, I had to set the record straight and at long last, tell my half of the story."
###