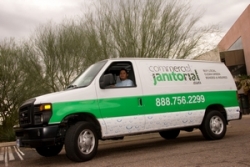 Dallas, TX, June 14, 2011 --(
PR.com
)-- One of the top US based office cleaning and building maintenance companies, Commercial Janitorial, announced a major new expansion into the Texas commercial cleaning market Tuesday. The company revealed plans to begin seeking new business in the Dallas-Fort Worth, Houston, Austin and
San Antonio office cleaning
markets. As part of this plan, the company also announced a major restructuring of operations which includes Will Scholtz now heading up the Texas operations of the company.
"Moving into the Texas market is a big deal for us as a company," Scholtz said from the company's headquarters in Phoenix, Arizona. "It means we've moved from being a regional player in the West, to a national company in several markets including two of the nation's biggest, the
Houston office cleaning
and
Dallas office cleaning
markets." The company indicated that the move had been in the planning process for quite some time.
"We didn't want to just jump into the markets in Texas, we wanted to wait till we felt as a company we could handle the growth. We also looked at the competition and identified several key vulnerabilities, one of which is lack of experience in Green cleaning that we as a company have," Scholtz further explained.
It is this green cleaning experience that the company hopes to use as a key selling point to Texas based companies. As a Green Seal Certified cleaning company, Commercial Janitorial adheres to strict guidelines for the use of cleaning chemicals and products.
"It's something we decided long ago as a strategic move for the company. Green cleaning not only is healthier for our employees and the people who work in the buildings we clean; it costs the same and cleans just as well as other traditional cleaning processes," Scholtz said.
Look for the company to begin advertising in the
Austin office cleaning
market beginning in July and then other markets by the end of the year.
###