The New Paleo Online Recipe E-Book Now Being Offered by MyReviewsNow
MyReviewsNow is delighted to introduce the Paleo Online Recipe E-book for people who are interested in healthy cooking. Although regular exercise can contribute to permanent weight loss, you must also eat a healthy diet. The Paleo cookbook can help people quickly create their own healthy meals.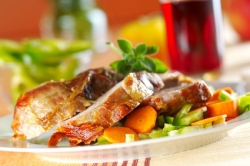 New York, NY, June 27, 2011 --(
PR.com
)--
The Paleo Online Recipe E-Book
has 395 pages, 370 recipes, and dozens of photographs. The book was written for enthusiasts of the Paleo-style of cooking. Sebastien, the author of the Paleo cookbook, says the Paleo diet can improve physical fitness, help people permanently lose weight, and minimize skin conditions like acne.
The cookbook is arranged into 18 different categories, and users can quickly find a particular dish. The categories include red meat, soups and stocks, and snacks.
A bacon and spinach frittata or an apple and cinnamon omelet make excellent breakfast dishes. Dinner recipes include beef roulade, Marsala-style chicken, and a rib roast with horseradish and herbs. Appetizers like bacon-wrapped scallops are perfect for serving before the main meal, and a traditional pumpkin pie recipe is even included in the Paleo cookbook for dessert.
Sebastien's 370 recipes are influenced by dishes from around the world. People from all cultures should be able to discover a familiar recipe. Although there are some exotic recipes in the cookbook, most of the recipes use relatively common and inexpensive ingredients.
The Paleo cookbook has earned accolades from numerous food enthusiasts including David Csonka of Naturally Engineered, Leigh Garcia from Paleo at Penn, and Tyson Harker of Start Being Fit. All three recommend the cookbook for newcomers to Paleo-style cooking as well as experienced chefs.
David gave high marks to the extensive herb and spice guide that accompanies the cookbook. Because Leigh is a college student on a limited budget, she appreciated the low-cost ingredients used for most of the recipes. Tyson liked the conversion tables, dietary requirements, and roasting guides included in the cookbook.
Regular customers have also enjoyed the Paleo cookbook. Matt from Chula Vista, California says that he enjoys the wide variety of dishes. Laura in Minneapolis, Minnesota recommended the Paleo cookbook to all of her friends. She has had more energy for her favorite activities, her digestive system is less upset after meals, and her stomach feels satisfied for longer periods of time after switching to a Paleo diet.
Gina from Seeley Lake, Montana credits the Paleo cookbook with helping her lose nearly 30 pounds. Gina admits that she was initially skeptical about the cookbook's benefits, but she was convinced after her husband lost 40 pounds using recipes from it.
MyReviewsNow and Paleo are now offering the Paleo Online Recipe E-book, a guide for herbs and spices, and eight weeks' worth of meal plans for only $34. The collection of all three items is valued at $81. The introductory offer of $34 will only last for a limited time, so customers should immediately make their purchase.
Because the Paleo cookbook is completely electronic, buyers can begin accessing their recipes as soon as their credit card charge is accepted. There's no wait for a paper book to be shipped, and all of the information is immediately available after payment.
Paleo is offering a money-back guarantee for 60 days. If a customer is not satisfied with the cookbook for any reason, they can request a full refund.
###
Contact
MyReviewsNow
Chickie Maxwell
863-646-7075
myreviewsnow.net

Contact