Zach Galifianakis Shines in Special Limited Edition of the Comedy "Visioneers" Now on DVD
Zach Galifianakis fans have been taking to Facebook and Twitter to find out about the DVD re-release of the special edition of "Visioneers" with free digital copy.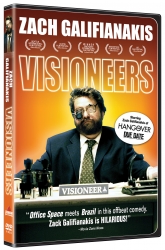 Santa Monica, CA, June 24, 2011 --(
PR.com
)-- As "The Hangover Part II" continues to break box office records, Xenon Pictures and Viva Pictures have released a special edition of comedian Zach Galifianakis' first starring role "Visioneers." The critically acclaimed comedy written by Brandon Drake and directed by Jared Drake arrives in a newly repackaged DVD Tuesday with a free digital copy included for the very first time.
Along with Zach Galifianakis, "Visioneers" co-stars Judy Greer (TV's "Arrested Development") and indie favorite James LeGros in a movie critics called a cross between "Office Space" and "Napoleon Dynamite." Galifianakis fans have been taking to Facebook and Twitter to find out about the re-release of this highly regarded comedy.
"Visioneers" stars Zach Galifianakis as an office worker named George who's stuck in a bleary job working as a mid-level manager in the surreal Jeffers Corporation. After employees begin spontaneously exploding as a result of their uneventful lives, George's doctor warns him that if he doesn't get out of his rut he could be the next to go. As his co-workers continue to detonate, George is forced to reevaluate his mundane existence before he literally blows up.
The DVD not only contains a free digital download but other special extras including a bonus scene from George's job interview with the Jeffers Corporation and a funny Jeffers Corporate video.
The new re-re-issue of "Visioneers" was released by Xenon Pictures and Viva Pictures in Association With Fireside Film, Mayfly Films, The Syndicate and Purple Sage Pictures.
###
Contact
Xenon Pictures
Alan Wenkus - Xenon Publicity
310-451-5510
http://www.xenonpictures.com/xenon.html

Contact