New DVD Release from Filmmaker Shawn Baker "Comrades" Available Now
Lock City Filmworks along with Director Shawn Baker launches hot new urban pic "Comrades."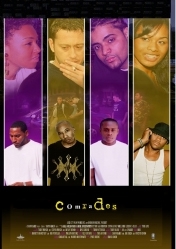 New York, NY, July 08, 2011 --(
PR.com
)-- Writer/Director Shawn Baker offered, "I brought a myriad of life experiences from script to screen with Comrades."
Shot on location in Brooklyn, NY with producer Kevin Spice Greene, Comrades stars Onyx's Fredro Starr (Torque, Save the Last Dance), newcomer Daniel Philip, Chyna Layne (Push, HBO's Life Support), Mike Lubik and features rap artist Tru life. Eddie is a first year college student on the honor role but after financial hardship and a broken heart he attempts to find refuge in a street gang called Deceptikons.
Available Now @ lockcityonline.com, filmbaby.com, amazon.com and other retailers worldwide.
About Lock City Film Works
Lock City Film Works (http://www.lockcityonline.com) is a production company that develops and produces quality films and videos, providing great entertainment with inventive stories designed for both enjoyment and education.
Currently, Shawn Baker is putting the finishing touches on the highly anticipated docu-drama tentatively titled "Conspiracy X," set in New York, this feature measures the fairness of the United States judicial system. It stars Kellita Smith (Bernie Mac Show), Olivia Longott (VH1's Love in Hip Hop) and Al Thompson (Love Don't Cost A Thing). In addition, Shawn Baker wrote and intends to collaborate with West Coast King Snoop Dogg in the gangster drama "Snoopafly."
Lastly, Mr. Baker is in pre-production of urban drama "Bully," starring platinum artist Maino, Tony Rock (Everybody Hates Chris) and Nashawn Kearse (My Brother).
###
Contact
Lock City Filmworks
Reuben Cox
800.991.0967
www.lockcityonline.com
Follow us on Twitter: @Shawnbakernyc
Like us on Facebook: Shawn.lockcity

Contact