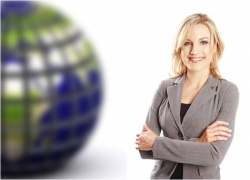 Alpharetta, GA, July 28, 2011 --(
PR.com
)--
Mantra Technologies
Alpharetta, GA-based company today announced technology partnership with an Online sales and Marketing company in California.
"We are very excited about this partnership. This partnership is direct result of Mantra's focus and offerings for small and mid size businesses in US," said Christine Summers, VP - Projects of Mantrasys. "Mantrasys delivers unique value for smaller businesses that large IT service providers cannot because of their size and non-practical scale of economics. On the other hand, with changes in business environment, offshore-only companies cannot deliver to US customers directly because of their location and lack of understanding of customer requirements. Mantra bridges this gap by providing quality consulting, proximity, working very closely with its customers and delivers superior results through strategic partnerships."
Under this partnership MantraSys will design and deliver turnkey solutions to the company's flagship online product. This solutions will use Mantrasys' mSource methodology and will cover all phases of the software development cycle - all the way from competitive analysis and requirements to implementation. For version one of the application, Mantra team will take the current application and make it scalable and more intuitive. This application will use latest features of .NET technology, SaaS and Cloud methodologies.
Mantra's approach to Strategic Outsourcing is relationship-based, technology oriented, delivery focused and knowledge centered. The underlying philosophy speaks for enhancing value and ensuring customer delight. It is this philosophy and the commitment of Mantra's management that has resulted in enticing diverse organizations enters into long-term partnership with Mantra, and thereby successfully reaping the consequent rich rewards.
Dedicated .NET center of excellence (CoE)
Mantra has a dedicated .NET center of excellence and team highly skilled .NET engineers. Mantra's .NET CoE provides range of solutions on .NET technology:
- Migration of applications to .NET
- Performance Tuning
- .NET Architecture and design evaluation
- .NET custom control development
- .NET Desktop and Web Application Development
- .NET Software Product Development
- Web Services based .NET Application development
- Mobile applications based on .NET Compact Framework
- Migration of application from .NET
About Mantra Technologies:
Mantra Technologies is IT consulting company based in Alpharetta, GA with a Global delivery center in Pune, India and partner delivery centers in Cebu, Philippines. Mantra offers wide range of end-to-end Software Development, Software QA and Project Management solutions specifically targeted for small and mid-sized businesses.
For more information please contact sales@mantrasys.com or call 770 217 9194.
###