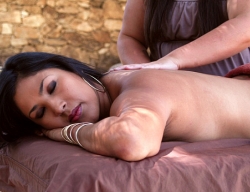 Palm Springs, CA, August 05, 2011 --(
PR.com
)-- The Los Angeles Times newspaper wrote, from "the Stars of Hollywood," to seeing "picture perfect sunsets" while cruising around town "with the top down," to a romantic rendezvous in Palm Springs...wherever you live..."Southern California has something for everyone."
ABC News reports only 57% of Americans take all of their vacation days each year. One of the reasons given is people think vacations are boring and sadly it is for many couples. Big, impersonal chain hotels are boring. Every time you turn around, there's another hotel employee with their hand out waiting for a tip. Instead of being treated like a guest, you're thought of as a walking ATM.
Wouldn't it be nice to find a resort that treats people like family. Where guests are the nicest, friendliest people. Where regular people are treated special with respect and snobby people don't fit in. Where it's easy to make new friends. Or where you can have some quiet, relaxing time together and remember why you initially fell in love.
Well the Los Angeles Times uncovered the perfect resort in their Readers Choice Awards, The Terra Cotta Inn Topless and Nude Sunbathing Resort. Their site is
http://sunnyfun.com
The Times wrote, "Widely regarded as the most mainstream nude sunbathing resort in the U.S., the historic Terra Cotta Inn is a popular clothing optional resort and spa located in the world famous playground of Palm Springs. Especially suitable for couples looking to sunbathe topless or nude for the first time. This is the perfect place to say goodbye to tan lines forever."
Terra Cotta was built by the famous architect, Albert Frey and is a historic mid-century modern boutique resort. Being a 17 room inn on 1 1/4 acres, it is the perfect size. Originally built for celebrities, the resort was built with high walls for privacy. Rooms are large and have all the modern amenities like king sized beds, flat screen TV and DVD player, free Wifi, free in room coffee, refrigerators, microwaves, and more. The resort has a salt water pool and jacuzzi, free parking, complimentary early check in and late check out, pool side cooling system, free breakfast and afternoon snacks, etc. MSNBC picked them as one of the best value resorts out west and trip adviser rating site picked them as one of the best deals of Palm Springs. Repeat guests from all over the US, Canada, England, Australia, and Mexico love vacationing here and always count down the days until they can return.
Not a nudist? Don't worry. You will feel very happy and safe at Terra Cotta. First timers are always welcomed and quickly become repeat guests which is why they have one of the highest repeat guest rates in the travel industry at just over 80%.
So if you want to try something fun, unique, romantic, and relaxing, then give Terra Cotta Inn a call at 800-786-6938 and as the Los Angeles Times says, "say goodbye to your tan lines forever."
###