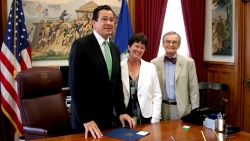 Hartford, CT, August 06, 2011 --(
PR.com
)-- Lupus Research Institute (LRI) Board member and Connecticut resident Hope Hetherington and her husband Representative John Hetherington joined with LRI and other advocacy groups to pass important legislation signed by Governor Dannel Molloy today benefitting the estimated 17,000 people in Connecticut affected by lupus, a serious and chronic autoimmune disease.
Representative Hetherington supported
House Bill No. 6481
, AAC The Establishment of a Lupus Education and Awareness Plan addressing the need for greater understanding and prevention of lupus, a disease affecting over 1.5 million Americans, 90% of whom are women and especially women of color.
As a long-time advocate and member of the Lupus Research Institute Board of Directors, Mrs. Hetherington testified at the public hearing on the bill, emphasizing the need for state legislators to develop lupus education activities reflecting LRI initiatives achieved at the federal level.
"The LRI's advocacy work in Washington succeeded in generating federal funding for the recently established Lupus Initiative to educate healthcare professionals and patients about the disease and to reduce racial and gender disparities nationwide," said Mrs. Hetherington. "On behalf of lupus patients, I am very proud to have helped bring lupus education to my home state. Some of the country's top lupus investigators right here in Connecticut are pursuing innovative lupus research thanks to nearly $2,000,000 in grants from the Lupus Research Institute."
How the Bill Will Help CT Residents
The new bill establishes an Inter-agency and Partnership Advisory Panel on Lupus within Connecticut's Department of Public Health. The legislation stipulates that the panel be comprised of several appointed representatives from government and patient groups including a state resident representing the Lupus Research Institute.
The panel will analyze the current state of lupus education in Connecticut to identify gaps. By 2012, they will develop a comprehensive plan to broaden awareness of the disease among health care practitioners, public health personnel and patients.
Addressing a Serious Need
Both John and Hope Hetherington were committed to passing the legislation to help women like her sister who lost a 25-year battle with lupus at age 50. "This bill takes a huge step forward for people with lupus and those yet to be diagnosed. With enhanced education, lupus can be better recognized, treated and studied."
About Lupus
Lupus is a chronic, complex and prevalent autoimmune disease that affects more than 1.5-million Americans. More than 90% of lupus sufferers are women, mostly young women between the ages of 15 to 44. Women of color are especially at risk. In lupus, the immune system, which is designed to protect against infection, creates antibodies that attack the body's own tissues and organs -- the kidneys, brain, heart, lungs, blood, skin, and joints. Lupus is difficult to diagnose, difficult to treat, and is a leading cause of premature cardiovascular disease, kidney disease and stroke among young women. While there is no known cause or cure, the progress of recent discoveries is highly promising.
About the Lupus Research Institute
The Lupus Research Institute (LRI), the world's leading private supporter of innovative research in lupus, pioneers discovery and champions scientific creativity in the hunt for solutions to this complex and dangerous autoimmune disease. Founded by families and shaped by leading scientists, the LRI mandates sound science and rigorous peer review to uncover and support only the highest ranked novel research to prevent, treat and cure lupus.
With its National Coalition of state and local lupus organizations, the LRI is dedicated to finding new and safer options for treating the disease by improving the design of clinical studies and promoting broad participation in clinical trials. Visit www.lupusresearchinstitute.org for more information about the Lupus Research Institute.
###