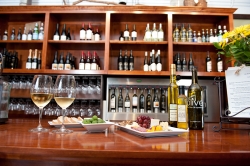 Paso Robles, CA, August 09, 2011 --(
PR.com
)-- We Olive, the premier retailer in the United States of artisan California Extra Virgin Olive Oil announced today plans to expand their number of new stores by offering new store franchise agreements. Currently with ten retail locations throughout California, the company will prioritize franchise opportunities in California and the Western United States. Ruth and Frank Mercurio, Paso Robles locals and owners of We Olive, have been at the forefront of the small grower artisan craft trend exploding in California for nearly a decade. As staunch advocates of California olive growers and this blossoming artisan trend, it is We Olive's goal to bring additional national visibility to the olive industry via the franchise expansion.
We Olive typically grants protected territories to area developers, who will develop and operate a number of stores in an area defined by a municipal boundary or as a trade area. The actual size of the protected area will vary by a number of factors including long term plans, population and market conditions.
We Olive Franchising provides:
Brand recognition - We Olive is recognized as a leading source for California Extra Virgin Olive Oil and gourmet products that enhance the culinary experience of olive oil. The We Olive® brand stands for fun, healthy, delicious artisan products enjoyed in a stylish, interactive tasting room atmosphere.
Innovation – We Olive continues to create new and exciting ways to share the "Olive Oil Experience." The company has expanded its base of loyal consumers and has increased revenue streams with new wine bar tasting rooms, prepared foods, events and gift collections enjoyed by both retail and businesses customers.
Support – Franchisees receive a solid structure needed to build a successful, sustainable business:
Vendors - We Olive sources only the finest quality suppliers, including California Extra Virgin Olive Oil growers certified by the California Olive Oil Council. Since all handcrafted food products are available for tasting at We Olive® stores, only the finest gourmet foods, wines and gifts at the right prices are made available to the consumer.
Training – Franchisees learn how to manage all aspects of the store, including processes for store opening and ongoing sales growth.
Marketing – With an established identity, advertising, public relations and interactive marketing expertise, the We Olive marketing team has generated awareness and traffic for each franchisee and cultivated a loyal base of repeat customers.
Operations – From hiring and customer service training to store layout, merchandizing and inventory control, the We Olive operational team provides support for ongoing success.
Locations –The We Olive® franchising team is involved with identifying trade areas that will succeed. In general, the preferred locations include: a popular tourist shopping locale, downtown street location, urban central retail district shopping area, strip shopping center, regional mall, high visibility suburban retail center or other high population retail store areas with the appropriate space for the type of We Olive® store.
The most ideal and successful franchisees include entrepreneurs who are passionate about delicious food, who help others enjoy a healthy lifestyle, and who are interested managing a growing business opportunity. The We Olive® franchising team looks for franchisee candidates who take a hands-on approach to managing their business and who also stay involved in their community. They must also meet We Olive's minimum financial requirements.
"We Olive strives to continually improve the franchise brand and corporate infrastructure," says We Olive Managing Partner, Frank Mercurio. "The company invests in staff and franchise training, technology, marketing, facilities as well as to develop innovative models that enable us to grow and maintain our leadership role in the industry."
About We Olive
We Olive – The Olive Oil Experience – is the nation's leading retailer of artisan California Extra Virgin Olive Oils, aged balsamic, mustards, pesto, tapenade and other gourmet foods that enhance the discovery of olive oil. At every We Olive store, guests can sample all items. Franchisees can now select either a traditional We Olive retail store or a We Olive & Wine Bar®. Current store locations include: Paso Robles, CA; San Luis Obispo, CA; La Jolla, CA; San Francisco, CA; Costa Mesa, CA; Walnut Creek; Belmont Shore, CA; Ventura, CA; El Dorado Hills, CA; Fresno, CA.
Website:
http://www.weolive.com
For additional franchise information, please visit
www.weolive.com/franchise
###