"Lucifer's Pommel" a Journey Into a Small Town's Hell, Published by Barren Hill Press at Smashwords
Author T. A. Bradley Releases His First Horror Novel on Smashwords in eBook Formats Suitable for Most Popular E-readers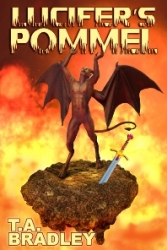 Conshohocken, PA, August 12, 2011 --(
PR.com
)-- Author and resident, T. A. Bradley, has published, through Barren Hill Publishing, "Lucifer's Pommel," a 444 page horror thriller that will take the reader into the depths of a small town's hell. When a misdirected icon, the pommel half of Lucifer's sword, arrives in the town of Banderman Falls, Pennsylvania, it draws an evil to it that no one has yet experienced. Desiring to remain in corporeal form forever, the evil, embodied in Zachariah Witherstone sets the town against itself. Pitting men against women through visions and dreams, he draws his power from their malevolence. But the town sheriff, Jack Dougherty, is not going to give up without a fight. Strong willed and determined, he soon discovers that what he is dealing with is beyond his capabilities and his town's survival will depend on a secret society of protectors, an old man and a young boy.
For a limited time (Monday, August 14 through Monday, August 22) an electronic book version of "Lucifer's Pommel," normally priced at $1.99, will be available to the public as a free download at Smashwords at http://www.smashwords/books/view/80569 using coupon code: YS83J.
An avid reader, Helen Youngblood said,"If you're a horror fan, this is a book that should not be missed." It will take you into the heart and soul of a small Pennsylvania town, where the darker side of humanity walks the streets in the form of your neighbor.
###
Contact
Barren Hill Publishing
T. A. Bradley
610-941-5445
www.tabradley-derangedwriter.com
T. A. Bradley has published several short stories, and has 2 more completed novels, all in the horror genre.

Contact