Time and Gems Announces Rolex Buying Services for Cash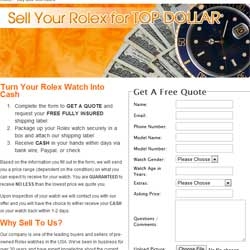 Los Angeles, CA, August 17, 2011 --(
PR.com
)--
Time and Gems
, one of the largest independent retailers of preowned Rolex watches in the world, based out of Los Angeles, has just launched their
Rolex
buying service which allows people to easily sell their Rolex for quick cash.
Their site TimeandGems.com allows you to get a free quote in a specific price range (due to differences in condition) by filling out a simple contact form and attaching pictures of your watch. If you accept the quote they will send a free pre-paid shipping label for you to ship your watch to them and receive a check in the mail within one week.
"We're unlike most watch buyers, who are often middle-men that need to buy at cheap prices in order to make a profit selling to other dealers or wholesalers," says David Reed, Sales Manager at Time and Gems. "We sell hundreds of Rolex watches a year, direct to consumers, essentially cutting out the middle-man, so we're able to give people the most money for their Rolex."
Rolex watches
have historically held their value extremely well, and overall have increased in price year over year. This is partially due to Rolex SA keeping tight control over the supply of their watches as well as the huge collector's market for vintage Rolex watches that few luxury watch brands can claim.
Those looking to sell their Rolex or any other luxury watch are typically forced to use avenues such as pawn shops, finding private buyers from sites such as CraigsList.com or online auction sites such as Ebay.com. These can be intimidating for the non tech savvy as well as dangerous since many scammers (both online and offline) target those selling luxury goods. By going with Time and Gems, a BBB accredited business with over 30 years of experience, you have a well-trusted source for selling your luxury watch.
About Time and Gems
Time and Gems has been selling luxury watches, specifically Rolex, over the past 30 years and retailing to customers worldwide online for the past 9 years. Their collection of luxury watches including Rolex Datejust and Rolex Presidents is in the hundreds, making them the largest online retailer of Rolex watches in the USA. All watches are restored by Rolexcertified watchmakers to Mint condition and come with individual appraisals and a 2-Year Warranty. They can be found online at their website
http://www.timeandgems.com
or at their store located in the heart of Downtown, Los Angeles.
Time and Gems is an independent company not affiliated with any watch manufacturer or distributor. Rolex is a registered trademark of Rolex Watch U.S.A. and Rolex International. Rolex prohibits their authorized dealers from selling online and discounting from Rolex mandated retail prices.
###
Contact
Time and Gems
James Roni
1-866-230-3138
http://www.timeandgems.com

Contact