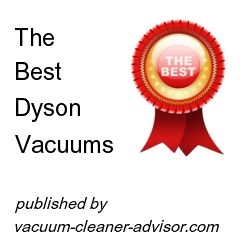 Seattle, WA, August 18, 2011 --(
PR.com
)-- Chances are there aren't many people who haven't heard of a Dyson vacuum cleaner. That's because the global marketing campaign for this manufacturer has been nothing short of astonishing. As a result, today they are one of the best known vacuum brands in the world. But with so many different models of uprights, canisters, handhelds and stick vacs, which Dyson is the best buy? Vacuum Cleaner Advisor has reviewed and rated almost all Dyson vacuum cleaner models and has just released its Best
Dyson Vacuum list
.
Although "best product" lists can be somewhat subjective, an impartial analysis can generate an accurate snapshot of the products that are likely to be the best value for your money. Vacuum Cleaner Advisor has taken into account consumer comments and ratings, as well as cost, in an effort to provide a quality list.
At the head of the class is the Dyson DC25 upright. Both the Multi floor and the Animal versions are favorites with consumers and provide top-notch cleaning ability. They use Dyson's Ball technology, which provides unparalleled vacuum maneuverability and allows users to change direction with the flick of a wrist. These machines are lightweight, not too loud and carry a 5-year warranty. They also generate powerful suction. The Dyson DC25 Animal is similar to the DC25 Multi floor but is designed for homes with pets and includes a special turbine tool for dealing with pet hair.
Other uprights that scored well include the Dyson DC28 Animal, the Dyson DC15 Animal and the Dyson DC18 Slim. Unfortunately the DC15 and DC18 are no longer widely available, although refurbished units can sometimes be found through online retailers. On the other hand, the DC28 Animal is more recent and quite easy to find. It offers the most suction of all the Dyson uprights and also sports Airmuscle technology which uses a pneumatic actuator to raise or lower the vacuum head ensuring an optimum cleaning distance from the floor surface.
Although widely known for their upright cleaners, Dyson also manufactures canister vacuums. The top two machines in this category are the Dyson DC26 Multi floor and the Dyson DC23 Turbinehead. The DC26 canister vacuum is well-liked by consumers. It is very compact and lightweight, yet still provides plenty of suction. Due to its small size however it is best used for cleaning smaller areas. The DC23 Turbinehead is a full size canister, and although it does not enjoy quite the same owner popularity as the DC26, its consumer ratings are nevertheless fairly high. It uses Dyson's Level 3 Root Cyclone technology and produces a healthy 220 air watts of suction. However, some owners feel it performs better on hard surfaces than it does on carpet.
Read more about Dyson uprights, canisters, handhelds and stick vacs at vacuum-cleaner-advisor.com. In addition to the Best Dyson Vacuum list, the website also posts many Dyson vacuum reviews complete with write-ups and analysis.
Vacuum Cleaner Advisor
has been providing unbiased reviews and ratings online for over four years.