Lisa Matassa is Highest Debuting Country Artist on Monday's Billboard Country Indicator Chart with the Single "Me Time"
Country artist Lisa Matassa had the highest debuting single on Monday, August 15, 2011, on the country Billboard indicator chart at #55 with her single "Me Time."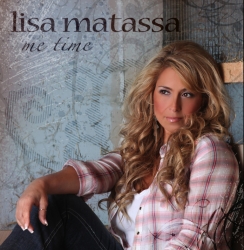 Plainview, NY, August 18, 2011 --(
PR.com
)-- Country recording artist Lisa Matassa was the highest debuting artist on the country music Billboard indicator chart, as of Monday, August 15, 2011, at #55 with her single, "Me Time." Matassa's debut country single, "Me Time" was also up 39 spins as of August 15, 2011.
Lisa Matassa's single, "Me Time," from her debut country music EP Me Time is currently spinning on the below listed country format radio stations in markets across the United States.
Country Format Radio Stations Currently Spinning "Me Time" include:
- WBTU U.S. 93.3 Fort Wayne, IA
- WKSJ 95KSJ Mobile, AL
- KSNI Sunny Country 102.5 Santa Maria, CA
- KJUG Country 106.7 Visalia, CA
- WGAR Cleveland's Country 99.5 Cleveland, OH
- KSOP Z104 Utah West Valley City, UT
- WIWF The Wolf 96.9 Charleston, SC
- KUBL K-Bull 93FM Salt Lake City, UT
- WJVC My Country 96.1 Long Island, NY
- KUPL Country 98.7 Portland, OR
- KRAZ KRAZy Country 105.9 Santa Barbara, CA
- KNTY The Wolf 101.9 Shingle Springs, CA
- WCKQ Q104.1 Campbellsville, KY
- WTNR New Thunder Country 94.5 Grand Rapids, MI
- KTHK The Hawk 105.5 Idaho Falls, ID
- KHKI 97.3 Urbandale, IA
- WTHI The Country Station 99.9 Terry Haute, IN
- WKMK Rockin' Country Thunder 106.3 Neptune, NJ
- WKSF Kiss Country 99.9 Asheville, NC
- WGTR Gator 107.9 Myrtle Beach, SC
- WRSF Dixie 105.7 Nags Head, NC
- WDXB The Bull 102.5 Birmingham, AL
- WWGY Froggy 95.1 New Castle, PA
- WIVK 107.7 Knoxville, TN
- WHXK Bluefield, WV
- WQYK 99.5 Tampa, FL
- KEAN 105.1 Abilene, TX
- WXXK KIXX 100.5 Lebanon, NH
- WTCM 103.5 Northern Michigan
- WTCY 88.3 Traverse City, MI
- WOKO 98.9 Burlington, VT
- WXFL KIX 96 Country 96.1 Florence, AL
- WTHI The Country Station 99.9 Terre Haute, IN
- WKTT CAT Country 97.5 Salisbury, MD
- WOVK 98.7 Country Wheeling, WV
- WHKX Kicks Country 106.3 Bluefield, WV
- KDBR The Bear 106.3 Kalispell, MT
About Lisa Matassa
Lisa Matassa is a music pioneer, having brought her own unique brand of country music to the Long Island region with her debut country EP, "Me Time" which was released independently through LMA Productions/It Is What It Is Records. Matassa's first single off her debut EP, Me Time, was released in June 2011, and is spinning on more than thirty country format radio stations across the U.S. in major country radio markets including: New York, California, Tennessee, Texas, Washington, Florida, Ohio, Idaho, Montana, The Carolinas, Utah, New Jersey, Indiana, West Virginia, Vermont, Maryland, Alabama, Kentucky, Oregon, Michigan and New Hampshire.
"Me Time" is also available for purchase at
www.lisamatassa.com
and available for download at
iTunes
, Amazon MP3, Spotify, MediaNet, eMusic, Zune, Nokia, Shockhound, Napster, iHeartRadio and VerveLife. Visit Lisa Matassa on
Facebook
, MySpace, Reverbnation, Twitter and YouTube.
Lisa Matassa's debut LP, "Sunrise Highway" is due for release this fall 2011. For the latest Lisa Matassa news, visit
www.lisamatassablog.com
.
To request MP3s, hard album copies of
Me Time EP
and other information, or to request an interview, please contact:
Allison Kugel
Allison Dawn PR
516-942-0264
allisondawnpr@aol.com
###
Contact
LMA Productions, Inc.
Allison Kugel
516-942-0264
www.lisamatassa.com
www.allisondawnpr.com

Contact
Multimedia
August 15, 2011 Billboard Country Music Indicator Chart, featured Lisa Matassa at #55, biggest debut country artist.