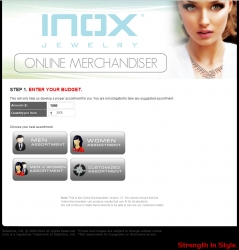 Norwalk, CT, August 19, 2011 --(
PR.com
)-- Demonstrating commitment to wholesale customers in a new level, INOX Jewelry launches an innovative website feature, the Online Merchandiser that will help retailers order and purchase stainless steel jewelry assortments easier, faster and safer.
INOX Jewelry offers more than a thousand different designs and styles of titanium and stainless steel jewelry. Manually sorting out this much product can get challenging and time-consuming for retailers. With the help of the Online Merchandiser, creating assortments becomes seamless and hassle-free while providing wholesale customers the same level of control and transparency.
Previously, ordering assortments can take up a whole day to process. For retailers, choosing jewelry that will compose an assortment can be overwhelming with the amount of inventory to choose from. The Online Merchandiser is an intuitive application that can create a jewelry assortment based on actual market data, current trends and customer preferences, all done in a matter of minutes. Even though the application is automated, retailers still have control on what products they buy and how much they spend, because assortment suggestions provided by the Online Merchandiser can be refreshed if customers do not feel confident with it.
The Online Merchandiser is great for businesses of all sizes. Retailers who are just starting out can take advantage of this online tool to create inventory composed of jewelry assortments that have been picked based on best sellers, newest designs and products on sale. Established businesses can also benefit from the Online Merchandiser's ability to reduce time spent on shopping and ordering huge numbers of inventory. Plus the application only creates assortments with products that are in-stock which leads to fast and hassle-free delivery. This can give retailers the edge against their competitors.
A useful and innovative purchasing tool that is currently not offered by other jewelry distributors, the Online Merchandiser shows INOX Jewelry's commitment to its wholesale customers by assisting them in building their stainless steel jewelry business and giving them the edge of having inventory that is based on market data and current trends.
INOX Jewelry, a brand of Salesone International, consists of more than 1400 different 316L Stainless Steel and Tungsten jewelry in a variety of styles for both men and women. INOX Jewelry's strong points come from providing high quality affordable products that appeal to almost any customer base around the world.
###