Calgary Psychic Launching Soul Path Messages, Intuitive Development Cards and Book - Taking Pre-Orders Now
Calgary psychic and intuitive counselor, Jeannie (Geneva) Lawler-Lunn, is launching a book and deck of cards designed to allow the user to tell her/his own future possibilities, while developing greater intuition and psychic awareness.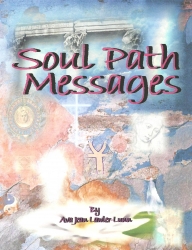 Calgary, Canada, August 24, 2011 --(
PR.com
)-- It's not often a psychic gives away her trade secrets. It's even more rare for her to teach others how to do what she does by way of increasing the reader's intuitive capabilities and psychic development. Ava Jean Lawler-Lunn (Jeannie- reading as Geneva at psychic fairs) is doing just that.
There are a lot of books out there that simply tell the meanings of cards, but none specifically developed to increase the user's own abilities.
Jeannie Lawler-Lunn, one of Calgary's favorite psychics and intuitive counselors, is releasing a new book, called Soul Path Messages, that comes with a deck of teaching cards. This book and card set is a must for anyone who is on the learning path and desires psychic development and intuitive expansion.
The book covers Jeannie's unique "spread" or "layout" for card placement- the one she uses for all of her in-depth card/psychic readings, as well as card meanings, methods of psychic protection prior to readings, how to prepare and handle the cards, how to use the cards for meditation or focal purposes, and how to link the meanings of each of the cards with the meanings in each of the "spread" place holdings. Also included is a template, to make card placement even easier.
Soul Path Messages is chock full of information and positive, life-affirming quotations.
Geneva has many followers...some have been seeking her guidance for as long as 30 years. Now it's time to share the information with others, so they too, may be of service in the metaphysical counseling field. Or, with those who simply want to increase their psychic awareness and really be in touch with themselves and the energies that surround them.
Desert Rose Publications/New Beginnings Guidance is now taking pre-orders for the launch of this great new book.
Reserve a copy now at
www.newbeginningsguidance.com
.
Wishing you light, love and abundant new beginnings.
###
Contact
New Beginnings Guidance
Ava Jean (Jeannie) Lawler-Lunn
403-272-4411
www.newbeginningsguidance.com

Contact