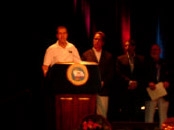 Milford, CT, September 19, 2005 --(
PR.com
)-- The SUBWAY® restaurant chain, which has long been committed to promoting
healthy eating
among both children and adults, recently participated in California Governor Arnold Schwarzenegger's unprecedented and groundbreaking Summit on Health, Nutrition and Obesity. Gov. Schwarzenegger named the SUBWAY® chain to the honor roll of companies that are taking the lead in employing measures to help curb the obesity epidemic.
In the spirit of the governor's initiative, the more than 1,700 SUBWAY®
restaurants
in California are introducing new Fit Meals, which consists of a sub sandwich (4" for kids, 6" for adults), low-fat milk, apples or raisins. These meals are built around healthy serving sizes, are low in saturated fat and cholesterol, and are a good source of essential nutrients like vitamin C, calcium and iron.
"At SUBWAY®, we believe that good nutrition, awareness and physical activity are the foundation of a healthy lifestyle," said Rick Sender, a member of the chainwide SFAFT (Subway Franchisee Advertising Fund Trust) board of trustees. "As an industry leader, we feel a responsibility to do our part to promote healthy habits in children and adults. These new meal options are just an extension of what we've always provided – fresh, nutritious, great-tasting choices."
Since its inception 40 years ago, SUBWAY® restaurants has been offering consumers a choice in fresh and healthier quick service dining. The SUBWAY® chain has also been at the forefront of companies aggressively fighting and drawing attention to childhood obesity.
In July 2004, the chain launched the SUBWAY® F.R.E.S.H. (Feel Responsible, Energized, Satisfied and Happy) Steps initiative, a national public awareness TV advertising campaign to help parents and children understand the importance of making healthful choices and leading active lifestyles. The spots showcased reallife heroes – kids who changed their lifestyle by eating healthy and getting active.
The program was highlighted by a children's march on Washington, at which kids signed a pledge committing themselves to living healthier lives by promising to be more active, eating a variety of good food and being proactive in creating a healthier lifestyle. The initiative was supported by The American Heart Association.
Recently, SUBWAY® Restaurants launched "Subway Champions," an online campaign designed to reward kids 8 to 12 who recognize the importance of leading a healthy lifestyle. Ten winners will be selected and receive a $10,000 529 Plan college scholarship account, along with a vacation for two and a chance to be in a print or television commercial.
The Summit on Health, Nutrition, and Obesity, which will be held September 15 at the Cal Expo in Sacramento, is the first step in a major initiative to reverse the obesity epidemic in California. Funded by the California Endowment, it will bring together food and beverage leaders, entertainers, employers, government leaders, obesity experts and community-based organizations, who in an effort to encourage healthful eating choices and physical activity, will commit to making bold changes in the way they do business.
Contact Information:
SUBWAY® Public Relations
(203) 877-4281
Kevin Kane Ext.1329
Les Winograd Ext. 1683
###