New Poll Reveals Canadians Lack Work/Life Balance & Crave Career Break to Travel as Labour Day Approaches
Leading career break expert shares successful sabbatical secrets.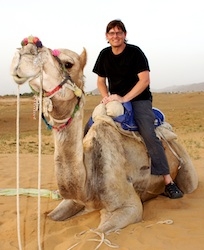 Toronto, Canada, August 29, 2011 --(
PR.com
)-- Labour Day, created to promote work/life balance – eight hours of work, eight hours of play, and eight hours of rest – is quickly approaching, but according to a new Gap Adventures Labour Day Poll, nearly half (47%) of Canadians struggle to achieve that balance. What's more, 64% feel overwhelmed or stressed at work at least occasionally.
However, the survey conducted in May by Harris/Decima on behalf of Gap Adventures, also revealed that the majority (89%) feel personal development is just as or more important than professional development. Three quarters (74%) of Canadians would take a career break – a period of time off from work for travel and personal development – if nothing stood in their way, and half (51%) often think of taking one.
Top Culprits for Travel Anxiety
First time, long-term and international travel can be daunting. According to the study, being alone, safety, security and budget are the biggest concerns about travelling during a career break, followed by culture shock, the unknown, unfamiliar, logistics and fear of getting lost.
While many may be terrified to break free from the confines of the cubicle to explore the world, a leading career break expert believes that sabbaticals are completely attainable. Jeff Jung, refugee of the corporate marketing world and founder of
CareerBreakSecrets.com
, has inspired and helped thousands to escape the rat race and embark on their own career breaks.
"Setting off to discover the world for the first time isn't easy and certainly doesn't come naturally to everyone. There are so many things to consider when planning a career break – it can be very overwhelming," says Jung.
Easing into International Travel with an Organized Tour
"Starting your career break with a reputable small group tour operator like Gap Adventures is a great and affordable way to get your feet wet. Not only do you have the added security and safety of an organized tour and travelling with a group, you also enjoy group rates when it comes to accommodation and activities. Plus, organized tours allow you to pre-budget and stay on budget as you know exactly what you're paying for," explains Jung.
"I like Gap Adventures because they help travellers step off the beaten path to experience the real destination. Rather than limiting yourself to the confines of a beach resort or being herded around on a big coach tour, the type of travel experiences Gap Adventures create are both enriching and inspiring – ideal for the career breaker. They have more than 20 years of experience and offer tours on all seven continents, in more than 100 countries," adds Jung.
Successful Sabbatical Secrets:
DitchTheCubicle.ca
Beyond being alone, budget, safety and security, other common career break concerns include not knowing what to pack, where to go, how to get there, when to travel and how much money to bring – the nuts and bolts of travel. Even selecting the right backpack can cause headaches.
Together with Gap Adventures, Jung shares a variety of successful sabbatical secrets and practical trip planning tips on
DitchTheCubicle.ca
– everything from must-have gadgets and first-aid kit items, to how to save for a career break and keep in touch abroad. In addition, Canadians seeking inspiration to escape the rat race can follow Jung on the Gap Adventures Career Break Series – a collection of videos filmed in his home of Bogota, Colombia and the colourful country of India – where he reveals more sabbatical tips.
Work/Life Balance & Career Break Benefits: Recharge, Revitalize & Restore
"I towered atop the corporate ladder for many years and the impact of the overwhelming stress really affected my health. Plus, the emotionally and physically-draining cubicle wars were suffocating and stifled my personal growth. I lost sight of the big picture and was heading towards a mid-life crisis," says Jung. "Taking a break from my career allowed me to recharge my batteries and revitalize my passion for life (and work!), to ultimately restore the much needed balance that was missing. It was the best thing I did for myself and my career."
While a career break may not be for everyone, Jung believes there are benefits to taking one:
• Reduces stress – On a career break you leave the stress of the office behind, your time is your own to do what you want to do, or not do;
• Improves life satisfaction – A career break allows you to explore the world, see new things, meet new people and experience things you couldn't in your "normal" life;
• Increases one's ability to adapt to new situations – Career breakers are faced with new experiences and new challenges everyday, and constantly forced to adapt to new cultures and environments;
• Rejuvenates one's life – Exposing yourself to new cultures, people, food and situations will offer a fresh perspective on life;
• Increases self-confidence – Travelling in foreign countries for an extended period of time having to figure out where to sleep, what to eat and how to get around (often where your native language isn't spoken), you feel like there isn't anything you can't do;
• Resume builder – Your trip will give you incredible international experience. Skills can be developed through various common sabbatical activities such as volunteering, teaching ESL or starting a blog. Additionally, many career breakers return with improved soft skills acquired from being on the road: flexibility, patience, risk assessment, negotiation, and decision making.
About the Survey
The data was gathered between May 12th through May 22nd, 2011 through Harris/Decima's weekly teleVox, the company's national omnibus survey. Results are based on a sample of 1,087 employed Canadians, and the corresponding margin of error is ±3.0%, 19 times out of 20.
For more tips and information on career breaks, visit
www.DitchTheCubicle.ca
.
High-res images available for download:
http://bit.ly/qOP1Mh
.
###
For more information or to setup an interview with Jeff Jung, please contact Timothy Chan at Gap Adventures: 416-260-0999 x 1353; timc@gap.ca.
Contact
Gap Adventures
Timothy Chan
416-260-0999, ex. 1353
www.gapadventures.com

Contact