CCBA® Exam Prep Course from BAMentor
BAMentor now offers a CCBA® Exam prep course for junior level Business Analysts that are looking to prepare and apply for the CCBA® certification.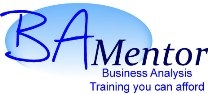 Atlanta, GA, August 28, 2011 --(
PR.com
)-- The CCBA® certification was released by IIBA® earlier this year and they now have the Exam prep course designed for aspiring candidates.
"We see this certification as the first major milestone of a potential senior business analyst. Once the milestone is reached, they can strategically seek experience in those parts of the Knowledge Areas they are lacking, thereby quickly achieving senior level expertise without waiting for it to happen by chance... so kind of a fast track to the CBAP® certification." said Kelemen Erzah, Co-Principal.
The CCBA® Exam prep classes they offer are similar in structure and delivery as the currently run CBAP® Exam prep classes which have proven to be very valuable to students taking the class.
"We have seen lots of success stories from our students and we are in no doubt that the CCBA® prep class will equally serve to fully prepare junior business analysts for their certification exam," said Kelemen Erzah.
BAMentor is gladly continuing its commitment to serving business analysis professionals by providing valuable training, tools and resources to the BA community. The upcoming class starts in January 2012. Register early at a discount price.
For additional information, contact Kelemen Erzah at kerzah@thebamentor.com or visit their website at
www.thebamentor.com
.
About
BAMentor, LLC - was established in November 2008 as an education provider by Linda Erzah, CBAP who has been running business analysis study groups in the Atlanta, GA area since September 2006. She has helped prepare business analysts to become CBAP® and is very active in the BA community. BAMentor, LLC continues this mission to provide professional development through educational courses, study aids, as well as other tools and resources.
###
Contact
BAMentor, LLC
Kelemen Erzah, Co-Principal
888-856-0958
www.thebamentor.com

Contact