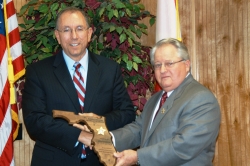 Stuart, FL, August 31, 2011 --(
PR.com
)-- Florida State Representative William Snyder, District 82, has received the 2011 Florida Sheriff's Association Legislative Leadership Award for his role in supporting a strong public safety agenda for the citizens of Florida.
Representative Snyder has an extensive background in law enforcement spending more than 30-years on the job. The state lawmaker spent 20-years at the Miami Dade Police Department before joining the Martin County Sheriff's Office where he became the Director of Law Enforcement at the agency. During his continued service as a Florida Lawmaker, Snyder Chaired the House Judiciary Committee and has assisted in crafting tough bills which added strength to the public safety agenda for Florida citizens and law enforcement officers alike. "I am proud to have been selected to receive this honorable recognition," said Snyder. "This is testament to the fact that those who enforce the laws and those who make the laws must work side by side to assure the safety of our citizens. I have been privileged to serve in both sectors and each carries the same awesome responsibility which I take very seriously." Florida House Speaker Dean Cannon has selected Representative Snyder to once again Chair the House Judiciary Committee for the next legislative session.
The Florida Sheriff's Association is a self-sustaining, charitable organization which fosters the effectiveness of the Office of Sheriff through leadership, innovative practices, legislative initiatives, education and training. The day to day operation is directed by a strategic plan created and approved by the 67-Sheriffs of Florida. Martin County Sheriff Robert Crowder presented the Florida Sheriff's Association Legislative Leadership Award to Representative Snyder. Snyder is running to become Martin County's next Sheriff when Sheriff Crowder retires and Snyder's term as a State Representative expires in 2012.
###