Hipster Chess for iPhone Tries to Reinvent Match 3 Game Genre
Silent Apps Team has released its second game for iPhone with a hope to reinvent crowded match-3 game genre one more time. Hipster Chess is a smart cross between chess and match-3/gem/jewel games. The game accordingly subtitled "Not Really Chess" and is available on the App Store.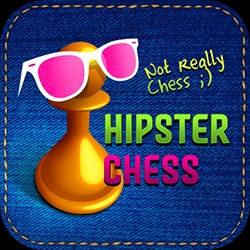 Riga, Latvia, September 07, 2011 --(
PR.com
)-- Hipster Chess is the second project by Silent Apps Team, a small development company based in Latvia. The game offers quite an innovative mix between chess and many match-3 games similar to Bejeweled. The game is yet to pick attention on the App Store, but developers have high hopes for it.
Silent Apps Team doesn't have a publisher behind it and as many other developers is trying to find success in the overcrowded Apple App Store. Developers believe Hipster Chess has a potential to be a hit, at least among those gamers who enjoy match-3 games. The game is jokingly styled with modern hipster attributes and doesn't take itself too seriously. It's subtitled "Not Really Chess" and tries its best not to scare away players who dislike original chess or have no passion for it.
The goal of the game is to line up chess pieces of the same color in rows of four or more to clear them off the board. Player can move both white and black pieces, but only like pieces move in original chess. A move that doesn't clear a line results a penalty of 3 extra pieces added randomly to the board. There are only 32 pieces available, game ends when there are not enough pieces to add to the board.
Like in original chess this simple game mechanics in combination with a progressive scoring system leads to a large number of possibilities and combinations. This what makes Hipster Chess stand out from the crowd, offering players not only regular color-matching pleasure, but also ability to deeper analyze their moves and strategy.
For those players who are unfamiliar with basic chess rules Hipster Chess offers quick tutorial and automatic in-game tips. The game is also fully integrated with Game Center. It includes a large number of challenging achievements with incentive to unlock them to increase overall score multiplier. And players can monitor their progress in advancing through a leaderboard in real time.
Hipster Chess is available on the App Store and is currently priced $0.99. For additional information about Hipster Chess, including screenshots, a demo video, and more, please visit http://hipsterchess.com
About Silent Apps Team:
Silent Apps Team is a small development company based in Latvia. Hipster Chess is their second game release for iOS platform. The first game was inReverse Party Game - a quite popular in Russia and Japan party singing app; it received moderate success and generally favorable reviews. The team is currently working on an update for Hipster Chess.
###
Contact
Silent Apps Team
Vasiliy Popov
00371-29197864
http://hipsterchess.com

Contact