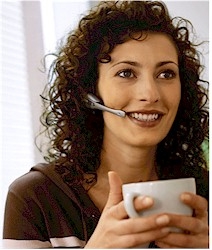 Milford, CT, April 07, 2007 --(
PR.com
)-- On March 1, HeadsetHouse.com began offering online advice about telephone headsets; and the 500th person to seek advice has been awarded a free Plantronics CS55H wireless headset system, worth $280.
The winner is Miranda Wright of Enid, Oklahoma. Ms. Wright is a freelance illustrator who works for book publishers and advertising agencies; and a work-at-home mother of three. She sent an Email to HeadsetHouse.com about buying a wireless headset, and ironically she got one for free.
Questions about headset purchasing and use are answered by "headset therapist" Dr. Wendy Kopfschmerzen, who has degrees in acoustics, audiology and anatomy. In late February, Dr. Kophschmerzen joined HeadsetHouse.com after working as an engineer for TransducerLogik GmbH in Germany and Audiktia, a Danish maker of hearing aids.
When notified of her good luck, Ms. Wright said, "This is amazing. I've been entering contests and buying lottery tickets for years, but until now the most I've ever won was extra cheese on a pizza. This time I didn't buy a ticket or send in a coupon. In fact, I didn't even know there was a contest; and now I'm getting a headset that is better than the one I was planning to buy. It will make it a lot easier for me to handle business calls at home, while watching my kids or doing household chores, or working at my computer."
The new Plantronics CS55H Home Edition Wireless Headset System works with most cordless or corded phones. It combines the clarity of traditional corded technology with the hands-free mobility of wireless, so people can move up to 300 feet from their phone without interrupting or missing a call.
ABOUT HEADSETHOUSE.COM
HeadsetHouse.com is the online headset venue of telecom supplier AbleComm, Inc. AbleComm has been in business since 1977 and operates over 30 websites, blogs and online forums. It supplies telecom products worldwide to customers including government agencies, large and small businesses, educational institutions, hospitals, and consumers.
###