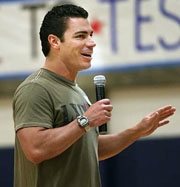 Orange County, CA, September 11, 2011 --(
PR.com
)-- Financial fitness is just as important as physical fitness for personal trainers and others in the fitness business, which is why many are turning to mentors and new marketing techniques and technology to help bolster their business during recent economic challenges.
In addition to traditional client acquisition techniques such as flyers and business cards, personal trainers are opting for one-on-one personal coaching/mentoring to help them hone their business and marketing plans and develop their personal brand.
"Like any business, many personal trainers have struggled during recent economic challenges, inspiring many to seek new ways to build and maintain business, make more money and save time," added John Spencer Ellis, founder of John Spencer Ellis Enterprises, a leading national fitness and personal development solutions company. "A great business mentor can help you re-imagine your business, find creative solutions to challenging times and increase clientele when other personal trainers are struggling."
While a personal training certification is a good start for anyone in the fitness business, truly succeeding as a personal trainer requires more education and more innovation. Likewise, social media marketing – including online marketing, email marketing, text message marketing and more for personal trainers – helps trainers reach new clients in an affordable and effective manner.
"Whether it's the boot camp workout, fitness and nutrition meal planning software or text message marketing for personal trainers, innovation and business systems are truly the key to success right now," Ellis added.
About John Spencer Ellis Enterprises
From the age of 12 when he received his first health club membership as a birthday gift from his father, John Spencer Ellis knew fitness and personal development would be his calling. His unique business success story started in a 400-square-foot studio apartment, and what started as a personal training business has grown into a multimillion dollar group of corporations providing a wide variety of personal development products and services to every continent and more than 55 countries. Within a span of 12 years, Ellis competed in more than 100 fitness events, including the Ironman, and finished fifth in the U.S. National Run/Bike Championships. In 1992, his passion for fitness education led him to found the National Exercise & Sports Trainers Association (NESTA), which educates and provides business solutions for fitness professionals. Now with more than 55,000 members in 55 countries, it is one of the largest fitness associations in the world, and the fastest growing association of its kind in the United States. For more information, please visit
http://johnspencerellis.com
.
###