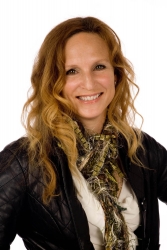 Oakland, CA, September 13, 2011 --(
PR.com
)-- Mogul Mom Jennifer Adams Bunkers Serves as CEO to a Successful Skincare Company and Manufacturing Firm, While Holding the Title of Chief Mom to Six Children.
As women everywhere excitedly prepare for the premiere of "I Don't Know How She Does It" starring Sarah Jessica Parker, one Power Mom is living out this tale on a daily basis. Jennifer Adams Bunkers, mother of six and the creator and owner of TruKid the Award-Winning Line of Safe Natural Skin, Sun and Hair Care Products for Children has taken the globe by storm with her successful and ever-expanding skincare business and leaves the world wondering just how she is able to do it all.
"If you can dream it, you can do it" – a quote by Michael Flynne - is the mantra that Jennifer has followed throughout her career, which began more than 18 years ago with the launch of her first business, Funopolis, a small toy company. Embracing her true entrepreneurial dreams, Ms. Adams Bunkers went on to create Velocity Source Group, a product manufacturing firm that helps U.S. based companies produce products in Asia, while simultaneously launching and independently running her skincare business, TruKid.
Power Player... Ms. Adams Bunkers has shown that dreams really can come true, successfully running several flourishing companies, all while maintaining a work-life-balance as a mother to six. One of Ms. Adams Bunkers current businesses, TruKid, began as a way to create safe and natural personal care for her kids. "TruKid was a wonderful opportunity for me to be able to create something I believed in, while also incorporating my family and lifestyle," says Adams Bunkers. "If I can engage my family in what I am doing and they are excited about it, it can be a part of our daily conversation in which they can make real contributions."
Jennifer, her husband, and her "army" of six have made a dedication to helping other families – one natural product at a time. Their mission? It's personal. "I struggled to find products for my children that were safe, natural and also had a good scent and texture," says Ms. Adams Bunkers. "But I also realized that I could be a resource for parents educating on the perils of toxic skincare. At TruKid, we use only natural ingredients, and essential oils to make scents that children love. I created an easy to learn symbol system, named products with fun names, accompanied with singable songs."
Shared Wisdom... Ms. Adams Bunkers attributes much of her success to the strength and knowledge she has found in other powerful working women and mothers. Her affiliation with WPO, The Women's President Organization, has allowed her to tap into the talents of female CEO's and provides encouragement and a forum to engage with her target consumer. She also engages on the international level with EO, Entrepreneur Organization that helps connect her to business leaders around the world.
Foundation for the Future… TruKid is the epitome of business that keeps family in mind. Her family is often the unofficial "Board of Directors" and Jennifer imparts her advice regularly. With the hopes of her children starting companies of their own and fulfilling her dream of raising kids that will become economic or social contributors to our society, Adams Bunkers offers advice that proved beneficial to her along the way, "Be nice to everyone, take risks while young, then grow business steadily and consistently, which is one way to sustainable long-term growth."
With the burning question still pending "How Does She Do It?" it is almost unthinkable that Jennifer could take on any more. However, there is no stopping the dream to reach higher for Ms. Adams Bunkers who is looking forward to creating products not only for children, but for fellow moms, as well. Future launches include mom-only tinted lip balm and body scrub, suncare for babies and pet products for Fido. "If I can't send a mom a massage, says Adams Bunkers, at least I can send them a great lip tint and products they can feel safe about their entire family using."
The dream for Jennifer does not stop there, with plans of global brand growth for the company's new parent brand TruVillage. TruVillage, a relatively new brain child of Ms. Adams Bunkers, will eventually become the umbrella brand for TruKid, TruBaby, TruBuddy, and more, with the goal to become the trusted global family brand for safe, natural products that create sustainable opportunities for families worldwide.
With her dream mantra and her family beside her, Jennifer Adams Bunkers is proving that moms really can do anything they set their minds to.
About TruKid
TruKid was developed by Jennifer Adams Bunkers, CEO and mother of six, who utilized her eighteen-plus years of experience in sourcing, product development and manufacturing. TruKid is committed to providing quality products and education to consumers in a safe, fun and effective manner, while encouraging a healthy, well rounded lifestyle. TruKid: Our product is skincare, our business is healthy living™. For more information, visit
www.TruKid.com
.
###
Like us on our new Face Book Page
http://www.facebook.com/pages/TruKid-Natural-Skin-Care-for-Kids/121190134594714
Jennifer Adams Bunkers, CEO/Founder
TruKid: Natural Skin, Hair & Sun Care for Kids!
129 Filbert Street-Oakland, CA 94607
p.510-463-2676 fx. 510-463-2677
www.trukid.com
jennifer@trukid.com
Contact TruKid Inc.™:
ph: 510-463-2676
Contact: Jennifer Adams Bunkers
Email: jennifer@trukid.com