Meyer's Equipment Manufacturing to be Featured on Upcoming Episode of American Farmer
Increasing Efficiency in Agriculture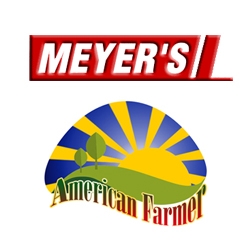 Dorchester, WI, September 14, 2011 --(
PR.com
)-- Meyer's Equipment Manufacturing announced today that they will be featured in an upcoming episode of American Farmer. With over 40 years of experience in the design and development of heavy-duty manure spreaders, Meyer's Equipment Manufacturing Corporation produces more than just machinery.
The episode will focus on advancements in farming technology, and how Meyer's manure spreaders can save time and resources for farmers.
"Meyer's Equipment Mfg. Corp. is a family owned and operated business since 1963. We are a considerably smaller organization than all our competitors yet we are a leader in our industry," said Stacy Meyer. "We believe in these tough economic times that it is imperative to increase efficiency and to save the farmer time and money. By properly managing the farms manure the farmer can reduce his need for commercial fertilizers. Our team is excited to be a part of the American Farmer and the message they are going to portray."
"What we hope to convey is the importance of efficiency in farming equipment," said Shirley White, producer for the series. "A Meyer's manure spreader can save tremendous amounts of time and resources for farmers, which in turn can effect every part of the agriculture industry, from the farmer to the consumer."
About American Farmer:
American Farmer is a breakthrough program on a mission to showcase the latest advancements in agriculture and farming. From seed to harvest to food production, their producers have traveled the country covering the people, places and issues impacting all areas of farm country. American Farmer is produced and distributed by DMG Productions, an award-winning content provider of educational programming to the television industry.
For more information visit: www.dmgproductions.org or call (866) 496-4065.
About Meyer's Equipment Manufacturing:
At Meyer's Equipment Mfg. Corp. we are committed to building a quality product at a fair price. Our spreaders are not massed produced. When you purchase a Meyer's Box Spreader you can expect quality and dependability.
For more information, visit: http://www.emcspreaders.com or call 715-654-5200.
###
Contact
Meyer's Equipment Manufacturing Corp
Stacy J. Meyer
715-654-5200

Contact