Treasure Hunting Fun at Audio4fun.com on International Talk Like a Pirate Day
Besides talking like a pirate, wearing pirate costumes and singing pirate songs, people will have more choices to enjoy this year's International Talk like a Pirate Day at Audio4fun.com.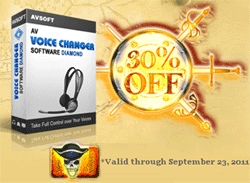 Ho Chi Minh, Vietnam, September 14, 2011 --(
PR.com
)-- This interesting and funny event - International Talk like a Pirate Day - has been in Audio4fun's annual event list since 2009. And for this year, the website decided to expand this year's celebration by adding treasure hunting games for their customers and Facebook fans to this special Talk Like a Pirate Day discount promotion.
Visit the store
to check out these new, fun games.
Inspired by the novel "Treasure Island," Audio4fun's Treasure Hunting games bring their users and fans the exciting atmosphere of finding the hidden pirate treasures. There are two "islands" - two versions of the game - with different kinds of treasures for each of these adventures.
The first version of the game is an exclusive bonus for
AV Voice Changer Software Diamond
(VCSD) users only. Users who buy the product during this time will not only get a 30% discount but also a secret link to the "Audio4fun Treasure Island" when logging in to Audio4fun Support Center. This Treasure Island contains full copies of several Audio4fun products, including: AV Music Morpher, AV Video Morpher, AV Webcam Morpher and even their premium music editor: AV Music Morpher Gold. Three golden packs of pirate-themed ringtones are also available in the prize list for users who just want to spice up their phone.
"Each player will have three times to dig for the treasures, and they can choose which one they want to take in the end. The most interesting part of this game is the surprise you get every time you dig," said Tracy Nguyen, Brand Manager at Audio4fun.com, "you won't know what you will get until you finish digging, and even if you dig several times at one location, the treasures you get might be totally different. So if you are lucky enough, you can get your desired treasure for the first time digging."
The other version of the game is designed for
Audio4fun's Facebook fans
. People just need to "Like" their page to start playing the game. The game runs with a similar mechanism as the other one for purchasers of VCSD, yet the prizes are discount coupons up to 70% off, as well as three unique pirate ringtone packages.
To make the game more challenging for the players, the 70% discount coupons are a little trickier to get than the others. However, once having won the coupons, the players can freely share them with their friends and use them unrestrictedly until the end of September.
"This is an occasion for relaxation and to release the piratitude inner you," said Ms. Nguyen, "Motivate your life with the excitement of treasure hunting, talking like a pirate, along with pirate cosplaying and other activities will make this year's International Talk like a Pirate Day unforgettable for our users and fans."
The special offer of a 30% discount on AV Voice Changer Software Diamond will last through September 19, 2011 and Facebook users can join in the fun of treasure hunting on Audio4fun.com's Facebook fanpage. Visit the Audio4fun store to get the offer and join in the International Talk like a Pirate day activities.
###
Contact
AVSoft Corp.
Lawrence Tran
+84-8-6290-9985
http://www.audio4fun.com
232/17 Vo Thi Sau Str., Ward 7, Dist. 3 Ho Chi Minh City, Viet Nam

Contact