NY Orthodontist Extends Invisalign Promotion for NYC Area Residents Through the End of the Year
Park Dental Care of Astoria, New York, offers patients in the metro NYC area Invisalign braces at deeply discounted prices through December 31st 2011.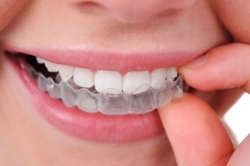 New York, NY, September 21, 2011 --(
PR.com
)-- The Invisalign promotion offers patients in the metropolitan NYC area a chance to obtain more attractive smiles at discounted prices. Patients and prospective patients throughout the NYC metro area can take advantage of deeply discounted prices on Invisalign braces. The Invisalign prices during this sale will be just $3900, compared to the usual $7500 regular price. Park Dental Care of Astoria is offering discounts of almost 50% off of the regular price of Invisalign in the NYC metro area.
Invisalign braces consist of a series of state-of-the-art clear plastic aligners that work to gradually straighten teeth, while remaining nearly invisible during the process. An impression is made of the mouth and a set of the clear aligners is developed that patients wear around the clock in intervals of usually two weeks, as their teeth gently shift into the desired alignment. This orthodontic option is an attractive choice for adults that would like straighter teeth and more attractive smiles but do not want to wear a set of metal braces usually seen on teens. Invisalign braces are more comfortable than their metal counterparts and allow patients to typically feel less self-conscious about wearing braces. Invisalign braces are not just reserved for adults however – teens can wear them as well.
Invisalign orthodontic procedures in their Astoria dental office are performed by Dr. Gus Atalla, a certified orthodontist. Dr. Atalla is a graduate of New York University's School of Orthodontics in NYC, and has been a member of their Queens dental practice since 2004. During that time, he has helped to straighten the teeth of thousands of patients and has become one of the most referred-to Invisalign orthodontists in New York.
"Invisalign braces are becoming more and more popular, especially as adults seek to obtain straighter teeth," explains Dr. Gus Atallah, one of the most respected Invisalign orthodontists in the NY metro area and the premier orthodontist on staff at Park Dental Care of Astoria. "Since we know that the price of Invisalign orthodontics can be a deterrent to some people wishing to straighten their teeth, we decided that we would run a limited time offer with super savings opportunities for those that wanted to use some of their summer free-time to invest in themselves and their smiles."
Park Dental Care of Astoria Queens also provides a full range of general and cosmetic dentistry services including cosmetic bonding, dental crowns, dental bridges, dental implants, laser dentistry, laser teeth whitening, Lumineers, orthodontics, porcelain veneers, smile makeover, Snap-on Smile, Invisalign, dental hygiene, dentures, halitosis, tooth fillings, oral surgery, periodontist, prosthodontics, root canals, sealants, and TMJ disorder. Park Dental office offers sleep sedation dentistry, emergency dentistry, pediatric dentistry as well as dental financing and affordable payment options. Invisalign sale prices are available through December 31st, 2011.
###
Contact
718Dentist - Park Dental Care of NY
Dr Gene Caiafa
718-274-1515
www.718dentist.com/

Contact