Unsigned Door-to-Door Musician Lands Single on Top-40 Radio and MTV USA
The Scotty James Story - An aspiring story about a young, desperate but ambitious unsigned musician that went door-to-door playing songs to raise money for his first album. Opportunity knocked when he arrived at the door of a music manager who gave him a recording, artist development, and management deal. Within one year, Scotty James went from obscurity to landing his first single on major radio in Canada, his music video on MTV in the United States, and opening for Sublime With Rome.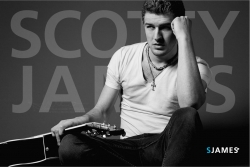 Toronto, Canada, September 22, 2011 --(
PR.com
)-- Opportunity knocked when an aspiring young singer songwriter, Scotty James, decided to go door-to-door and play songs for people on their front porches in hopes of raising enough money to produce his debut album. Armed with only his acoustic guitar, a pocket full of change, and worn out white running shoes, Scotty James, who many say sounds like John Mayer meets Train, hit the streets in the summer of 2010 to pursue his dream of becoming a pop star. Scotty says "I was flat broke and desperate to get my music out, I had no choice but to grab my guitar and go door-to-door."
Little did he know that a chance meeting with a music manager, would ultimately change the course of his life and music career. In less than one year of busking at people's front doors, Scotty James defied odds and remarkably broke into mainstream music.
Scotty James landed his debut single on major radio across Canada, music video on MTV USA and California Music Channel including several special features on prominent A&R websites, plus an invitation to open for Sublime with Rome and He is We.
Scotty James recalls that late summer evening in 2010 when fate brought him to the front door of a music manager, "It was getting dark outside and I debated whether I should knock on one more door." Scotty had no idea he was about to be greeted by Johnny Ioannou, a music manager and owner of an online music and ticketing company. "When Johnny opened the door, he was very skeptical and thought he was being set up for a birthday prank when I asked him if I could serenade him for ten dollars," laughs Scotty. Ioannou agreed and was surprisingly impressed when he heard several of Scotty's original songs.
After a lengthy conversation about the state of the music industry and the new digital age, the two kept in touch and soon after formalized a partnership that included a management, recording, and artist development deal. Ioannou states, "Scotty had this special gift, often referred to as the 'it factor,' but what most caught my attention was his strong desire to succeed and his willingness to work hard."
Wasting no time, the two worked closely together unrolling an intensive eight month online marketing and branding campaign that would fast-track Scotty's music career from obscurity to the next level. Ioannou states, "We literally started from ground zero with only 29 Facebook fans, no recorded music, no live show experience, and no online presence other than an inactive MySpace page."
In June 2011, Scotty James released his debut 5-song EP titled 'Crazy' featuring his hit single "Wanna Be Loved". Fans quickly embraced Scotty's new single and major radio soon followed by adding it to Hot AC and Adult Contemporary formats across Canada. According to Ioannou, "It was a remarkable feat for an unsigned artist to get major radio rotation without label representation." Following this success, Scotty James was featured on high profile industry magazines such as crazedhits.com, Kings of A&R, and hypebot.com. He gained valuable stage experience over the summer by opening up for Sublime With Rome, Andrew Allen, He is We, including headlining several large festival stages.
Just this past August, Scotty James got word from Hip Video Promo that his music video for 'Wanna Be Loved' got added to MTV USA, California Music Channel and 16 other regional music channels. According to Andy at Hip Video Promo, "Scotty James, in just the first three weeks of the campaign, has already made a big impression with our programmers. It's clear that the video for 'Wanna Be Loved' is being really well received with our prestigious programmers."
As they prepare for the release of a new single this fall, Scotty James and his team are using the success and momentum they gained in the first year to fuel continued development in 2012. "It's been an unimaginable and surreal year for me. Our goal last August was to make great music, build our fan base and get street appeal, and we did it," says Scotty.
Now with over 5,000
Facebook
fans that span across the planet, a YouTube video that went viral, and a teenage army of autograph-seeking fans who flock to his shows, Scotty James is inspired to keep his fans excited and continue spreading his music worldwide.
Scotty James music is available on iTunes.com/ScottyJames and at
ScottyJamesMusic.com
.
###
Contact
JonPaul Music360
Johnny Ioannou
519-342-0020
www.scottyjamesmusic.com

Contact