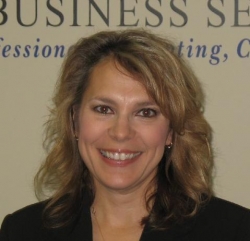 Coldwater, MI, September 23, 2011 --(
PR.com
)-- Hudson Business Services LLC recently achieved a new level of credential from Intuit, the developers of QuickBooks© accounting software. Charlene F. Hudson, M.B.A., owner of Hudson Business Services LLC, is now accredited as an Advanced Certified QuickBooks ProAdvisor. This new credential heightens Hudson's advanced skill level for the product further distinguishing her as a "QuickBooks expert" that is highly proficient in the software.
"I am extremely pleased with this achievement," stated Hudson. "The credential not only demonstrates advanced skills but also our true passion for the product and will serve us as we continue our work with QuickBooks users, at varying levels, in the areas of training, set-up and implementation and support."
In addition to the Advanced QuickBooks certification Hudson also is QuickBooks certified in the areas of QuickBooks Point of Sale and QuickBooks Enterprise Solution. Hudson is currently the only QuickBooks certified expert in these two QuickBooks products, as well as the only Advanced Certified ProAdvisor in Branch, Calhoun or Hillsdale counties. Charlene is also certified as a QuickBooks Consultant through the Sleeter Group, a nationally known community of accounting software and business experts that provide QuickBooks, and other accounting software and add-ons support and services to small and mid-sized businesses.
Hudson has experience working with a variety of industries and has successfully implemented numerous accounting systems throughout her career for small and mid-sized businesses. "My work with QuickBooks© has been a very natural progression," stated Hudson, who has taken her experience and skills well past the basic QuickBooks ProAdvisor certification. "I am always very excited to share my expertise and consider this additional certification a renewed commitment to our clients who we know look to us for guidance in this area."
About Intuit Inc.
Intuit Inc. is a leading provider of business and financial management solutions for small and mid-sized businesses; financial institutions, including banks and credit unions; consumers and accounting professionals. Its flagship products and services, including QuickBooks®, Quicken® and TurboTax®, simplify small business management and payroll processing, personal finance, and tax preparation and filing. ProSeries® and Lacerte® are Intuit's leading tax preparation offerings for professional accountants. The company's financial institutions division, anchored by Digital Insight, provides on-demand banking services to help banks and credit unions serve businesses and consumers with innovative solutions.
Founded in 1983, Intuit had annual revenue of $3.85 billion in its fiscal year 2011. As of July, 2010, the company had approximately 7,800 employees with major offices in the United States, Canada, the United Kingdom, India and other locations. More information can be found at www.intuit.com.
AboutHudson Business Services LLC
Hudson Business Services LLC is located in Fairfield Plaza at 488 Marshall Street in Coldwater and provides accounting, consulting and tax services to individuals, small business owners and entrepreneurs throughout the tri-state area. With a focus on QuickBooks services, Hudson Business Services LLC goes beyond traditional accounting services and takes a proactive approach when serving clients. For a complete listing of services, along with valuable tips and resources, visit www.hudsonaccountingservices.com or call (517) 278-7576.
About Charlene F. Hudson, M.B.A.
Charlene F. Hudson, resides in Coldwater with her husband, Coldwater native, Doug Hudson. She is a licensed C.P.A. (Ohio) and obtained her Master's Degree in Business from the University of Toledo. Charlene is an Advanced Certified QuickBooks ProAdvisor, Point of Sale and Enterprise Solutions ProAdvisor and one of seven-hundred nation-wide Certified Sleeter Group QuickBooks Consultants. She is a Non-Michigan CPA Association Member of the Michigan Association of Certified Public Accountants, a member of the Ohio Society of CPA's, a proud member of Altrusa International where she is the current Literacy Committee Chairperson, and is a member of the Branch Area Chamber of Commerce. Mrs. Hudson also currently serves as Board Treasurer for Pansophia Academy.
All products mentioned in this release are trademarks or registered trademarks of their respective holders.
###