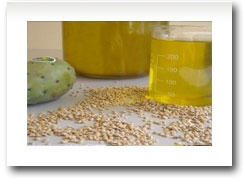 London, United Kingdom, September 27, 2011 --(
PR.com
)-- The Purus Prickly Pear Oil is easily absorbed through the skin, it exerts powerful regenerating and restructuring properties. Prickly pear oil rejuvenates mature skin and also give it a slight lifting effect. Regular use results that the skin stays elastic, smooth and firm, and has a natural shine. It's antioxidant activity is strengthening and it's protective, anti-pollution and anti-stress properties combat skin-aging from the sun. The Purus prickly pear (bio) oil is exceptionally rich in essential fatty acids (EFAs). These substances are valuable because they help to fight against dry skin, improve hydration, slow the aging process of the skin and prevent wrinkles.
Purus Oil is 100% pure, cold-pressed oil from the seeds of the Prickly Pear cactus fruit (Opuntia ficus-indica). There are no chemicals or heat-treatment involved in the making of Purus Oil and it is free from all additives and preservatives. It is truly a wonderful and revolutionary beauty product that will leave your skin glowing and healthy within a very short space of time.
. Protects the skin against premature aging (anti-aging activities)
. Tightens the skin and prevents premature wrinkle formation
. Promotes a beautiful and healthy complexion
. Reduces the under-eye shadows and eye circles
. Highly recommended for dry and rough skin
. Moisturizing and revitalizing
. Helps to repair fragile, fissured and lustreless fingernails
. Not suitable as sunless tanning oil
Prickly Pear Oil has been used by Berber women for centuries to help protect their skin against the desert winds.
Wrinkled skin commonly associated with aging is largely caused by the weakening of the collagen and elastin support system in the skin. Purus 100% Pure (bio) Prickly Pear Oil contains numerous ingredients that help to revitalise the skin, making it softer, smoother and more supple, thereby reducing the appearance of wrinkles. Purus Oil also moisturizes, which improves the texture, tone and appearance of fine lines and wrinkles.
The surface of the skin has an invisible oil layer which acts as a barrier to stop moisture from escaping. In a very dry climate this lipid layer is often unable to cope and too much moisture is drawn out of the skin. Daily bathing or showering may exacerbate this by stripping away the lipid layer due to the astringent effects of soap and water. Purus Oil supplements the skin's natural oil layer, helping to restore its barrier function of retaining moisture.
. Anti-aging
. Anti-oxidant
. Anti-wrinkle
. Helps fight shadows and dark circles under your eyes
. Promotes healthy and beautiful skin
. Improves skin microcirculation
. Protects the skin against free radicals
. Hydrating
. Revitalising
. Firming
. Healing
Penetrates very easily into the epidermis and leaves your skin feeling velvety soft.
10ml Purus 100% Pure (Bio) Prickly Pear Seed Oil - special introductory offer of £35.99 per bottle - http://www.purusoil.com
###