Double L to be Featured on Upcoming Episode of American Farmer
This segment will focus on innovations in potato handling and harvesting equipment.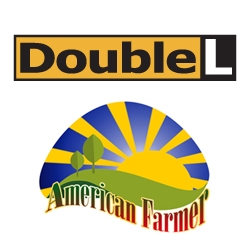 American Falls, ID, September 27, 2011 --(
PR.com
)-- Double L is pleased to announce their participation in the American Farmer series, due to air this Fall 2011. Dates and show times to be announced.
Double L, founded in 1975 in Idaho, was started by a potato farmer who sought to increase efficiency in his own operation. Since then, the company has used their first-hand knowledge to develop and manufacture products to increase production and make better use of our precious natural resources for the everyday American farmer.
The episode will introduce some of the potato handling and harvesting technologies developed by Double L, including their new Return Flow harvester.
"The Return Flow harvester line allows for an increase in harvester throughput efficiency of up to 20%. Previously, potato harvesters had to completely stop each time unloading stopped. The Return Flow harvester allows potatoes to recirculate through the machine when unloading is stopped. This allows the harvester to continue operation while a full truck leaves and an empty truck arrives," said Chris Hunsaker, President of Double L.
"In the end, we understand that farmers all over the world must do more with less. We will continue to focus our efforts on creating innovative products and services that help our customers improve their efficiency," said Hunsaker.
In addition to potato harvesters, Double L also produces a wide variety of handling, cleaning, conveying, and transport equipment that can be used in many crops in addition to potatoes. All of these products focus on making the farmer's operation more efficient.
"Companies like Double L truly are the backbone of farming in America. This story starts with humble roots - a farmer seeking a better way to handle and harvest his product," said Shirley White, producer for the series. "The company has never forgotten those roots, despite the fact that their products are now distributed across the globe. They still take the time to forge unique relationships with their customers to address and meet their individual needs."
About American Farmer:
American Farmer is a breakthrough program on a mission to showcase the latest advancements in agriculture and farming. From seed to harvest to food production, their producers have traveled the country covering the people, places, and issues impacting all areas of farm country. American Farmer is produced and distributed by DMG Productions, an award-winning content provider of educational programming to the television industry.
For more information visit www.dmgproductions.org or call (866) 496-4065.
About Double L:
Different from other potato and material handling equipment manufacturers, we are committed to delivering exceptional value to the buyers and suppliers we serve. We do that by taking the time to understand our customers' needs by taking a supportive role in the Request for Quote process. Double L is able to supply high quality products at a reasonable price by utilizing the investments in quality people, quality vendors and quality equipment.
For more information, visit: www.doublelglobal.com or call 1-800-658-5085.
###
Contact
Double L
Chris Hunsaker
208-226-5592

Contact